The dog days of summer will continue for the holiday weekend with more hazy, hot and humid conditions.
Highs Saturday and Sunday will top out in the mid 90s with heat indices between 103-107.
Thus, if you plan to soak up some sunshine the next couple days remember to stay hydrated and to wear hats, sunglasses and sunscreen .
Heading back to work on Monday the hot and humid conditions stick with us with temperatures in the mid 90s and feel like temperatures well into the triple digits.
The only difference on Monday and Tuesday is that with a tad more moisture in the atmosphere we will have a slight chance for one or two pop-up showers or storms each afternoon.
Towards the middle and end of next week is when things get interesting and we will be keeping our eyes in the northern Gulf for the possible development of a weak tropical system or hybrid low pressure system.
According to the Friday afternoon run of the European Model it projects a low pressure system to form in the northern Gulf near Florida by Wednesday afternoon.
As this low develops it could send us a bit more moisture upping our rain chances slightly to about 30-40% Wednesday afternoon.
The models then have the low working back to the west towards Louisiana sending us a good chance for scattered showers and storms on Thursday and Friday.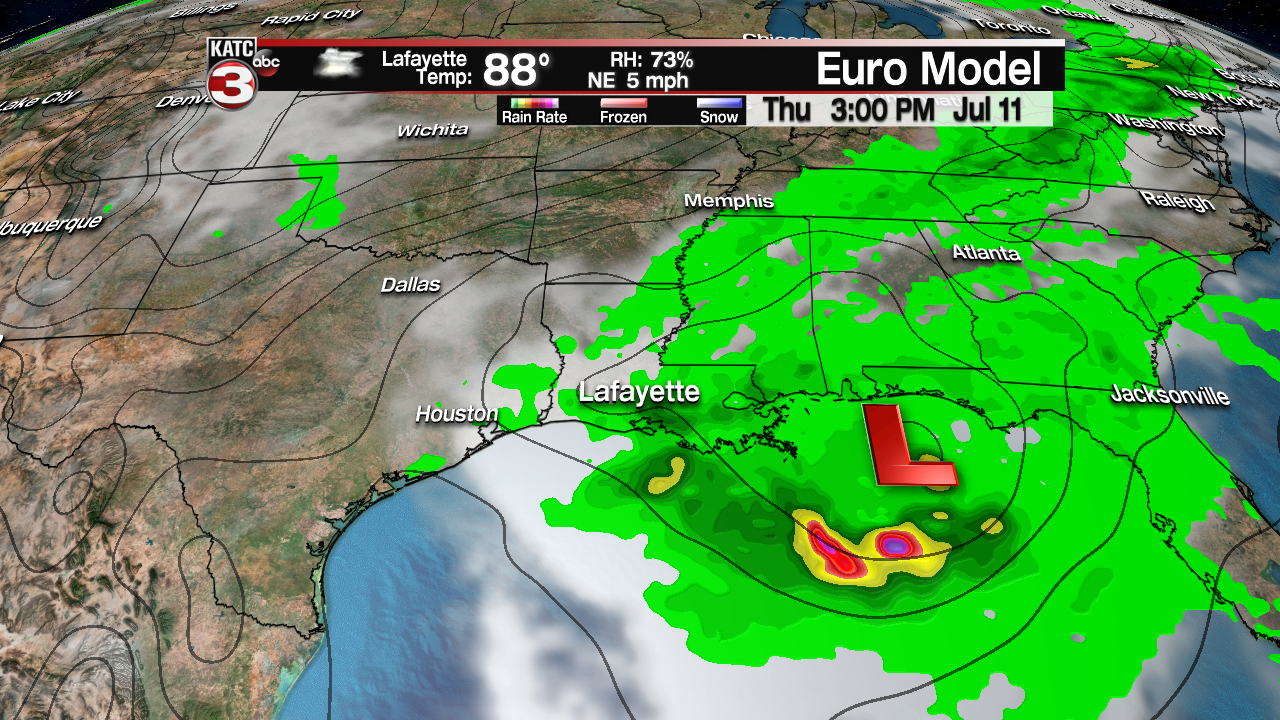 Both the European and GFS models have the low tracking over South Louisiana next Saturday.
Beyond Saturday that is where the models diverge with the European model having the low take a right turn and push to the north towards Arkansas which could keep high rain chances into the first half of Sunday before the system moves out of the area and into ArkLaMiss.
As for the GFS it keeps the low tracking to the west towards Texas and clearing Acadiana a little faster by late Satruday night.
Either way this low looks to have a lot of deep tropical moisture and could produce rounds of heavy rains dropping 4-8 inches of rain with the possibility of some areas getting as much as a foot of rain on Saturday which could cause serious flooding issues.
That said the next several days would be a good time to start checking the drains around your house and neighborhood to make sure they are clear and the water can drain properly.
Just know this system is still 7-8 days out and the forecast will likely change so make sure you are checking back with KATC for the latest forecast concerning this potential low pressure and heavy rain threat.