A disturbance and weakness in the upper atmosphere will gradually yield to a more stable and hazy pattern for Acadiana through the mid-week period.
Showers and storms, especially across Southwest Louisiana, can be expected Tuesday evening, where the disturbance is most pronounced, with patchy light rain possible elsewhere.
Latest Doppler Radar:
Quieter conditions are anticipated later overnight through Wednesday morning with temperatures dropping into the low to mid 70s by daybreak. A little light fog will be possible in spots.
Wednesday should bring more sun, and thus, hotter temperatures with highs reaching the lower 90s.
Heat indices Wednesday will be back into the 100 degree range during the afternoon.
Rain chances will be closer 30% for the area Wednesday, mainly later in the afternoon.
It should be even hotter and a little bit drier Thursday with readings topping out in the mid-90s, while rain chances decrease to about 20%.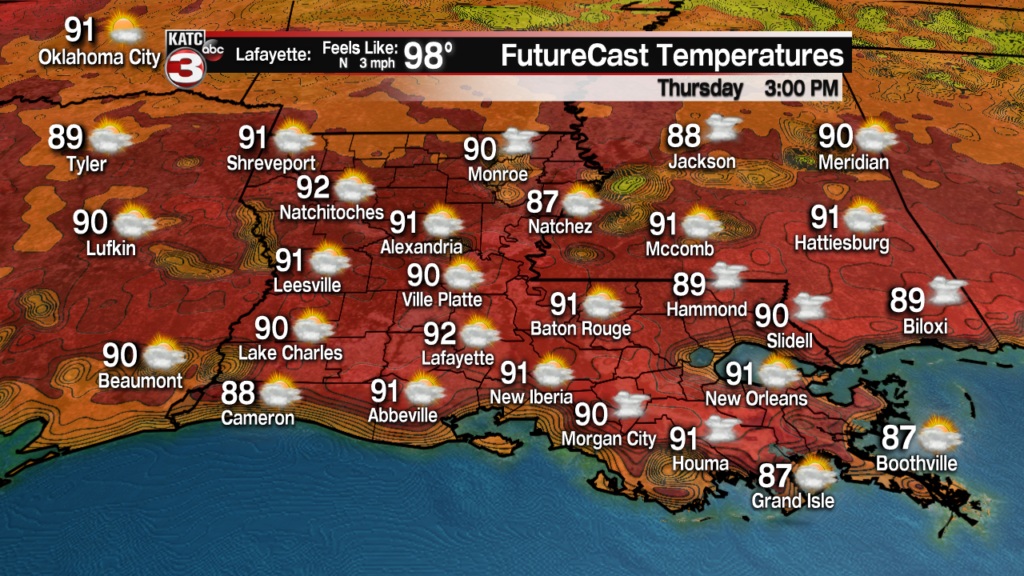 The weekend (perhaps as early as late Friday afternoon) should bring higher rain chances again as the same disturbed area and colder air aloft slips back to the southwest across the state.
While the weekend shouldn't be a washout rain chances will be back up into the 40-50% range..and perhaps a little higher.
The up and down rain chances will continue into next week with lower chances briefly Monday, followed by another tropical surge of moisture flowing northward out of the Western Gulf of Mexico Tuesday into Wednesday.
If it all works out, the weather for the Fourth of July might be drier and hotter and that may carry into the following Friday…but as we all know, with up and down rain chances, nailing the forecast 9 days out remains a tricky and rather inaccurate proposition…stay tuned!
Meanwhile in the tropics, all is quiet with plenty of African Dust traveling across the Atlantic Basin and locally in the Gulf of Mexico edging into Louisiana, which will also translate to more haze during the day, and could be a thunderstorms limiter…but as a bonus, the dust should provide for more orange and reddish sunsets across the area Wednesday and Thursday, provided there are fewer clouds.