With drier more stable air in the region, Acadiana will see hotter temperatures and higher heat indices over the next couple of days.
Rain chances will likely stay in the 10% range Wednesday and Thursday with perhaps a slightly better chance of an afternoon storm, near 20%, Friday.
Look for highs Wednesday to reach the 93 degree range with slightly lower readings near the coast, and possibly a degree or two hotter along and north of the Highway 190 corridor further away from the subtle cooling effects of the Gulf of Mexico.
Combining the heat with the humidity, the "feels like" temperatures (or heat index) will approach the 103-105 degree range Wednesday and Thursday.
It should get a little breezier Friday into Saturday as storms getting cranking in the High Plains while high pressure strengthens to our east, which should limit our highs to the lower 90s thanks to a better resultant draw of southerly winds from the Gulf of Mexico.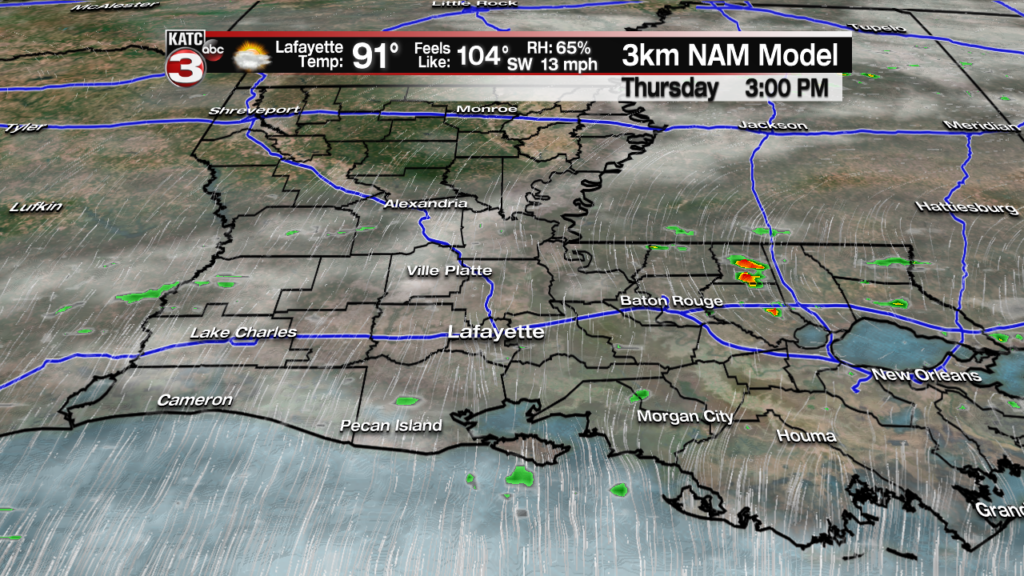 Unfortunately, this also means our overnight lows will get closer to the very uncomfortable 80 degree mark going into the weekend.
There should be little change in our weather pattern Saturday, but by Sunday, an upper level disturbance approaching from the northwest should engender a better chance of scattered showers and thunderstorms.
Scattered storms will stay in the forecast Monday, but a rebuilding ridge of high pressure mid-next week will translate to plenty of sun with temperatures pushing high temperatures into the mid-90s.
Heat indices will stay in the 103-105 degree range Friday and Saturday, lower slightly Sunday and Monday, shooting back to the "full summer' category, in the 105-108 degree range next week.
See the KATC 10 Day Forecast for the latest.
Today's side notes: With the recent bacteria advisories issued for some Louisiana beaches due to extra warm water waters, it is be noted that Gulf of Mexico water temperatures are running some 2-4 degrees above normal for the time of the year.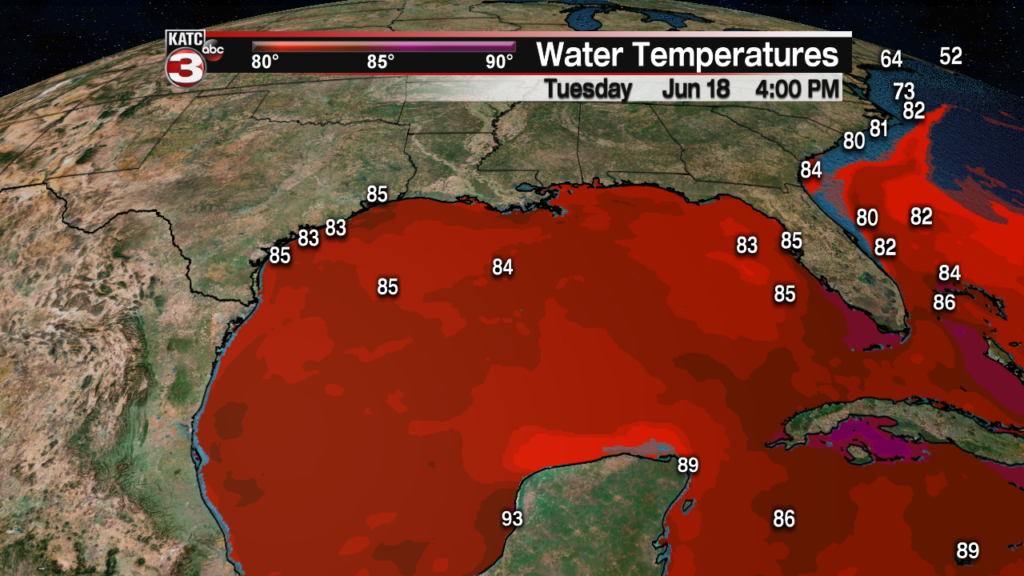 This may not only lead to an earlier "dead zone" developing across the Northern Gulf of Mexico, it could ultimately become one of the largest on record thanks to the additional effluent from the very high rivers pouring into the Gulf of Mexico since early spring.
If the above normal temperatures continue and showers and storms don't persistently cover large chunks of the Gulf, then there will be ample additional fuel for tropical systems later this summer and fall, should systems become a threat.