After some interesting weather across Acadiana Friday afternoon, a much nicer and quieter weather pattern is expected for this weekend.
A cold upper level low pressure system that brought the strong storms to the area yesterday afternoon was so cold over the region this afternoon that it helped destabilize that atmosphere, producing scattered showers and thunderstorms, some of which brought pea to marble size hail to a few spots in the area.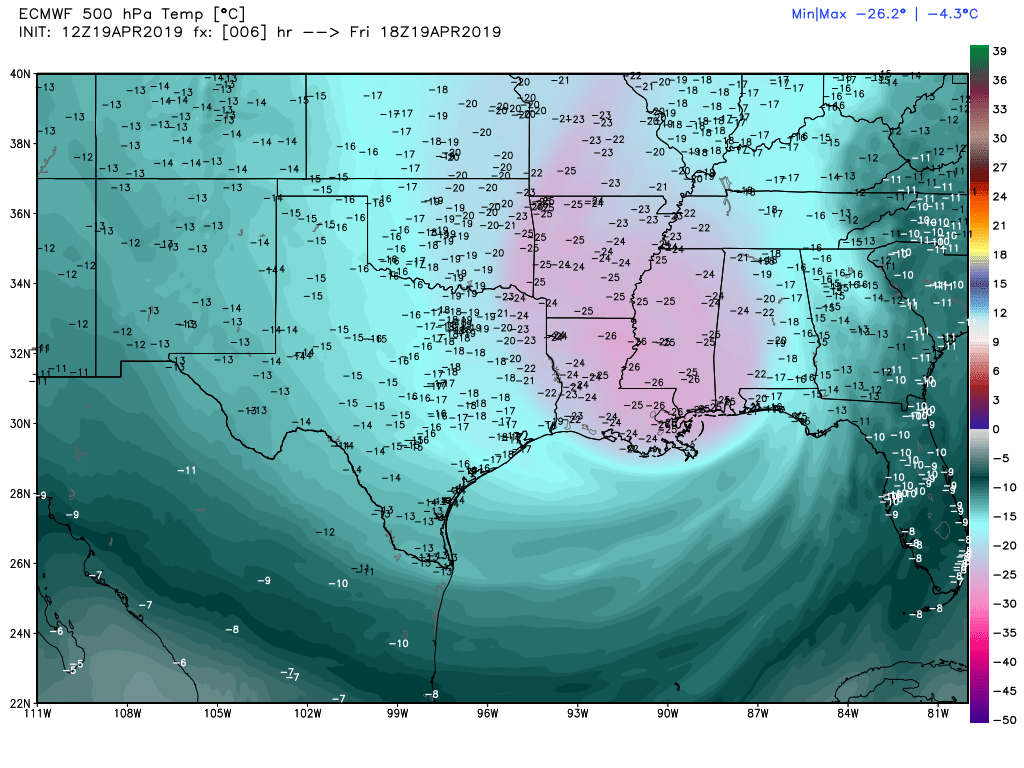 Temperatures at 18,000 feet. (500mb level)Upper level temperatures which are normally in the minus 10-13C range for the area this time of year, were closer to minus 25-26C this afternoon…and that's what helped to generate some of the hail…and cloud to ground lightning in spots too.
A few showers and perhaps another storm or two will be possible into early this evening, but all (if any) activity should end in the Acadiana area shortly after 8:00 pm.
Latest Radar:
Looking ahead to the rest of the night, skies should clear for an excellent view of the full "Pink" Moon overnight…and no, it won't be pink, it's just the name the Native Americans gave it for April associated with flowers in bloom this time of year.
It will stay on the breezy side with chilly temperatures dropping into the mid-upper 40s by morning! Enjoy it as we may not see these temperatures again for 6 months!
Saturday and Sunday will bring wall to wall sunshine across the area.
Breezy northwesterly winds Saturday will diminish Saturday night, and then become southerly Sunday.
Look for highs reaching the mid-70s Saturday and upper 70s Sunday, after a morning start in the upper 40s to lower 50s Sunday morning.
Looking ahead into next week, a general increase in cloudiness and warmer temperatures are expected Monday into Tuesday with highs reaching the lower 80s.
The next weather-maker for Acadiana, per the Euro Model, looks to arrive late Wednesday night into Thursday, generating scattered showers and thunderstorms.
While it is way too early to call, there could be another lower end or some sort of severe weather threat with next week's system…but we won't have a feel for that until early next week.
A few mainly daytime showers and a storm or may follow into Friday (and maybe a similar pattern to today), but hopefully the evenings will be okay for Festival International.
And per the European Model, next weekend's weather looks just fine…that's a change from yesterday's forecast, but stay tuned as we will probably have more changes coming to the 10 Day Forecast!