After the threat of a few showers or a storm into this Monday evening, Acadiana will get to enjoy a couple of sunny and comfortably warm days Tuesday and Wednesday before a change in the pattern occurs later this week ahead of what could be, another stormy weekend.
Latest Radar and Satellite Imagery:
Look for plenty of sunshine accompanied by temperatures in the seasonably warm mid 80s over the next couple of days.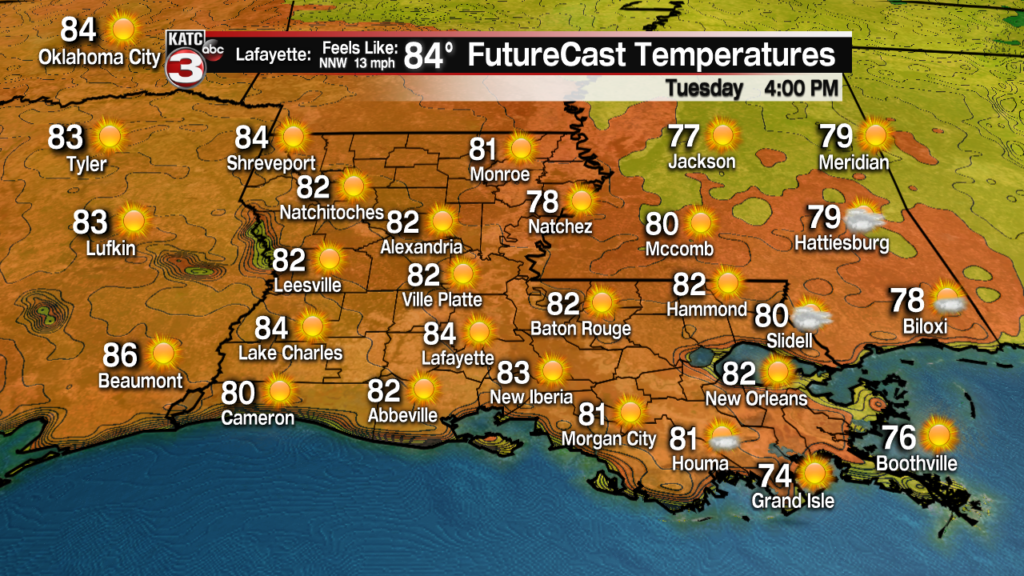 A nice northwest breeze Tuesday will keep humidity low and allow for temperatures to drop in the more refreshing range of the upper 50s for most spots Wednesday morning.
FutureCast Temperatures:
Winds will switch out of the south Wednesday gradually ushering in higher dew points and humidity but it still will be a very nice day.
FutureCast Winds:
A fizzling frontal system will approach the area Thursday, which by the way will be part of a major storm in the central US that will be a bog snow-maker in the high Plains and possible a severe weather-maker well to our north.
So there may be an isolated shower or storm into Thursday night and/or Friday but rain chances will stay in the 20% range or less, but could be slightly higher for Thursday night.
Next weekend could be another messy one as a warm front will likely spark showers and storms across the area Saturday. Timing is yet to be determined on the storms, but it could be an early in the day event.
Nonetheless, there could also be some sort of low end severe weather risk with the storms Saturday.
A stronger upper disturbance, surface low and cool front will likely pass through the region sometime Saturday night into Sunday, and this event could be a more significant severe weather threat for the area.
In addition, some locally heavy rainfall will be possible Saturday into Sunday so it wouldn't be surprising like this past weekend, we may have severe weather and flood watches for portions of the area, or very close by, by next weekend.
Latest Euro Model: