Acadiana can expect more on and off showers and thunderstorms over the next several days with a brief break, perhaps arriving Friday.
Essentially we are back in a rather unpredictable, "El Nino-enhanced" pattern, thus the active storms that arrived much earlier than expected Monday afternoon.
Latest Doppler:
Scattered showers and thunderstorms will be possible over the next several days with even the marginal risk (per the Storm Prediction Center) of a few strong to severe storms that could produce some hail, and gusty winds in their immediate vicinity, and at any time, through Wednesday morning.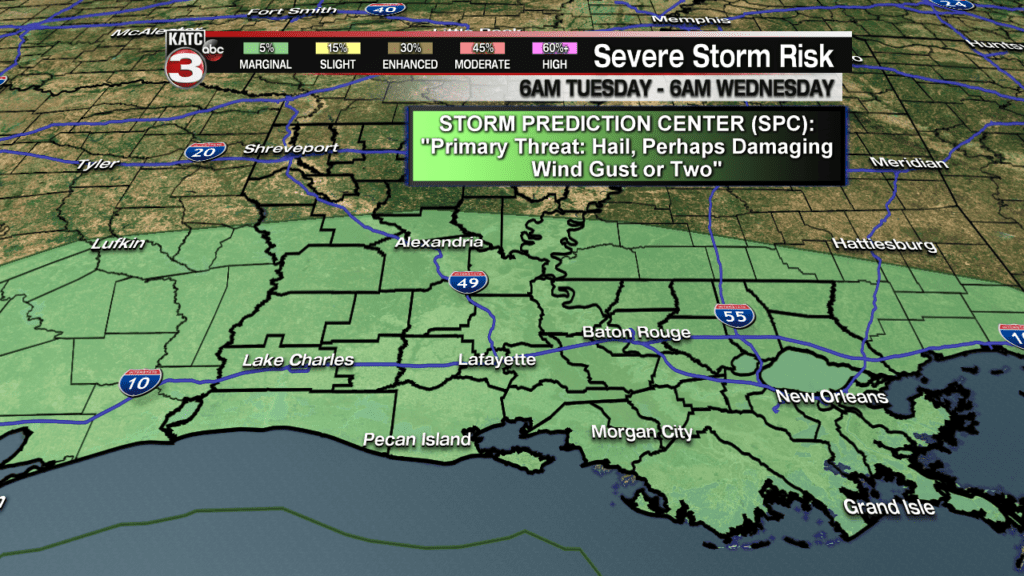 Although rain chances will continue, temperatures will warm back into the 70s Wednesday thanks to a northward advancing warm front.
A weak front will move back southward late Thursday hopefully allowing for a one day break in the precipitation and perhaps, a partly sunny and pleasant day Friday.
The pattern switches back to the usual clouds and rain chances late this weekend with clouds increasing Saturday along with showers possible by late in the day.
Showers and storms will become likely Sunday along a low pressure trough and accompanying cold front that could usher in very chilly conditions into Mardi Gras.
The showers and storms (and mild temperatures) early Sunday will gradually change over to colder periods of rain Sunday night into Monday morning.
And interestingly enough, while not likely, both the long range GFS and Euro depict a brief change over to sleet, perhaps a few snow flakes during the wee pre-dawn morning hours Monday…no accumulations are expected.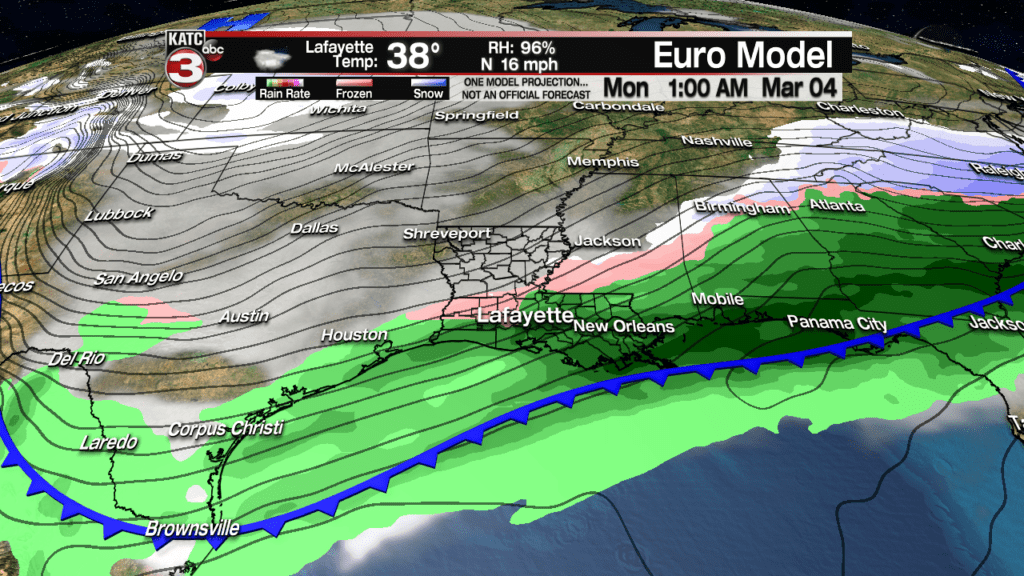 There will be certainly a winter chill in the air for the first full week of March including Lundi Gras with cloudy skies and temperatures holding in the 40s…wind chills will likely be in the 30s.
The skies may clear for Mardi Gras but temperatures may start out in the low-mid 30s finishing in the mid-upper 40s…and there could still be a wind chill factor.
And with any luck, at least we'll get a few sunny days, albeit chilly ones, Tuesday through next Thursday…and there could be the distinct possibility of one or more frosts next week as well…see the KATC 10 Day Forecast for the latest…as the forecast for this period will likely change at some point.
Latest Long-Range European Model: