A cool front sweeping across Acadiana overnight Tuesday will engender breezy and cooler conditions for our Wednesday.
Breezy northerly winds will develop overnight and will helps to reduce our temperatures into the mid-upper 40s by Wednesday morning.
Wednesday will be a mostly sunny, breezy and seasonably cool day with highs topping out in the upper 50s to lower 60s.
Chillier conditions will ensue Wednesday night into Thursday morning as with readings dropping into the mid to upper 30s across the area.
More sunshine and seasonably cool temperatures are anticipated Thursday with highs closer to the mid-50s.
Friday will start off partly sunny but we should see clouds increasing late in the day ahead of Acadiana's next weather-maker that arrives Saturday.
Temperatures Friday should reach the lower 60s for the afternoon.
Scattered showers, possibly a few rumbles of thunder are in the forecast Saturday as a low pressure system travels smartly through the Bayou State.
This system shouldn't bring any issues such as a severe weather or a heavy rain threat.
In fact, the models continue to be apathetic to rainfall totals much more than 1/2 to 2/3 of an inch Saturday.
Latest European and GFS Model Rain Estimates:
Wrap around clouds and perhaps an active sub-tropical jet stream orientation will bring mostly cloudy, breezy and cooler conditions to Acadiana Sunday with temperatures struggling to get out of the upper 40s into the lower 50s during the afternoon.
And while the models do not overtly show much precipitation in the area, if at all, there might be some light rain showers and/or sprinkles into Sunday afternoon and/or evening.
So while the weekend will certainly be on the grayer side, brighter days with mostly sunny and seasonably cool conditions should follow early next week.
It could get cold enough for a possibly frost next Tuesday morning, but don't hold your breath for anything colder than the lower to mid-30s for now.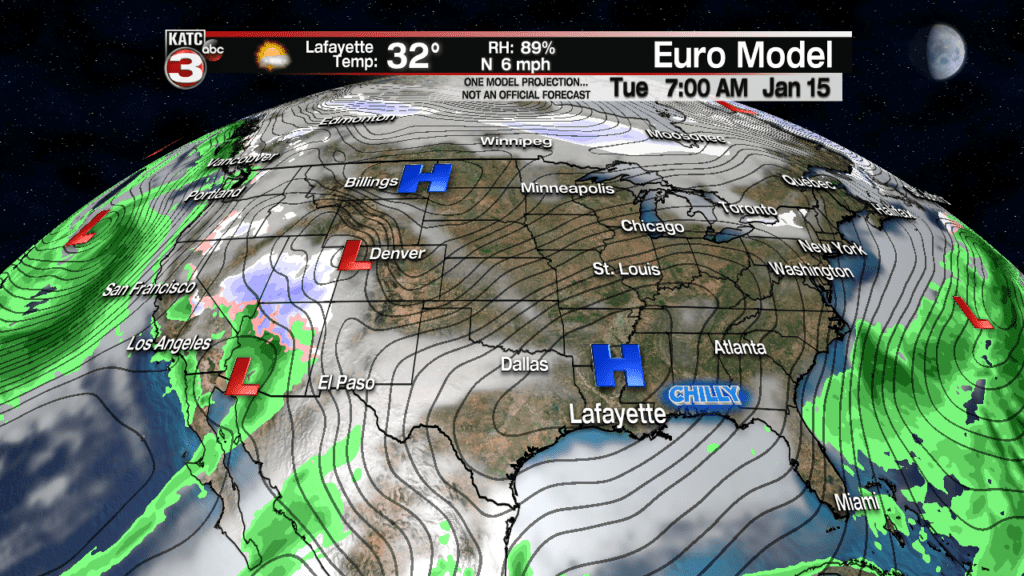 A few light showers may return to the area late Wednesday, but much of next week, if not all, should be mostly dry and seasonable.
We could see another gray and unsettled weather pattern for the weekend that follows, but we'll take it one week at a time.
Tuesday's Climate Notes:
Lafayette saw a spring-like high temperature this afternoon at 77 degrees, just two degrees shy of the record of 79F set 11 years ago. New Iberia reached 76F, 3 degrees shy of the record of 79F.
Long Term Climate Notes: Per the Climate Prediction Center (CPC), it appears that for the rest of January in our part of the U.S. will continue to experience near or slightly above normal temperatures, with an active sub-tropical jet stream keeping it more cloudy and occasionally wetter than normal.
The lack of any arctic air intruding the northern U.S. into the 3rd week of January all but tells us there will be no real winter temperatures nor frozen weather to speak of locally until perhaps the first few weeks of February…and at that point, the weeks will be numbered to 2-3 at best, for any possibility of winter weather or temperatures…and I'd bet against that too!