The weather for Acadiana this weekend will be outstanding, and if you find yourself out standing in the weather, don't forget the sunblock and a hat!
The weather will be quite favorable for the UL Homecoming football game, the Louisiana Cattle Festival in Abbeville, the Gumbo Cook-Off in New Iberia and of course the big Festivals Acadiens et Créoles in Lafayette!
After a cool start Saturday morning in the upper 50s to lower 60s look for mostly sunny skies and warmer conditions into the afternoon.
Highs Saturday will top out a few degrees above normal, in the mid-80s.
Breezy south-southeast winds will kick in Saturday afternoon, so that means milder temperatures, closer to the upper 60s or lower 70s will be likely Saturday night going into Sunday morning.
Acadiana Wind Forecast:
Fair to partly cloudy skies are anticipated Sunday, with temperatures and humidity on the rise. Highs Sunday afternoon will likely be in the upper 80s.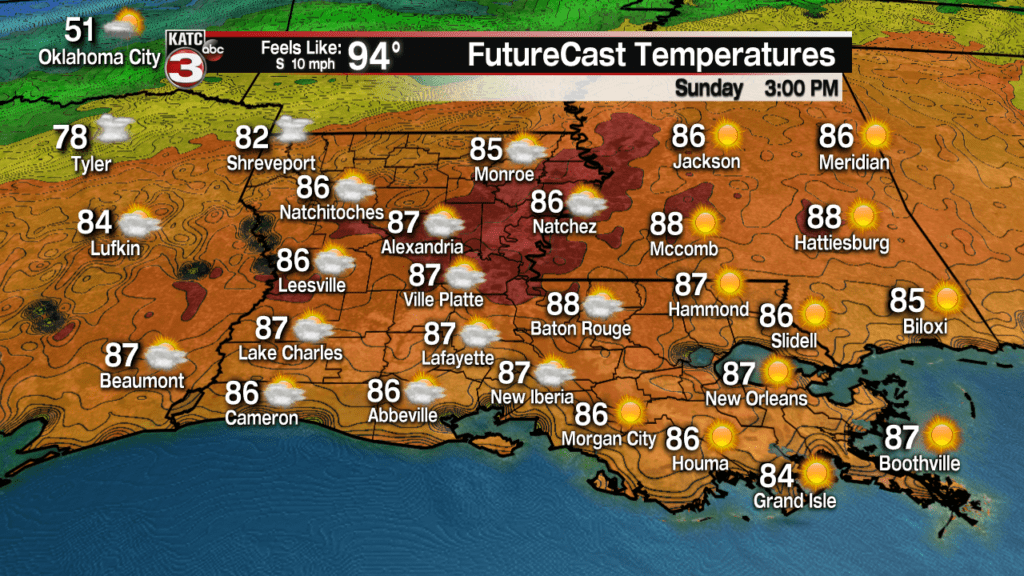 Rain chances will remain slight through the weekend, possibly near 5-10% Sunday afternoon for perhaps a brief shower.
Latest FutureCast:
Moving into Monday, showers and storms are expected by late in the day as the next cool front passes through the area by Monday night.
The front however will stall off the coast, keeping some rain chances and plenty of clouds through mid-week.
Temperatures will definitively feel like fall early to mid-next week with highs struggling to get out of the 60s thanks to extensive cloud cover…overnight lows should drop into the mid-upper 50s again.
Temperatures should moderate again going into late next week and into the following weekend, before another front nears the region. But gone are the 90 degree readings, and likely for the rest of the calendar year.
Latest Long-Range European Model:
In the tropics, it has quieted down considerably with the exception of the northern and eastern Atlantic.
The remnant storm Michael, after brushing the Canadian Maritimes Friday night, will move out to sea, while tropical Storm Nadine in the far Eastern Tropical Atlantic should dissipate this weekend.
Farther north, Hurricane Leslie is expected to impact portions of Portugal and Spain as a hurricane weakening to a tropical storm…a rarity indeed.
The suspect area in the Caribbean yesterday has been removed by the National Hurricane Center as conditions look rather hostile for any tropical activity here for the immediate future.
A little closer to home, the remnants of once major hurricane Sergio in the Pacific will soak portions of Texas into Oklahoma and Arkansas this weekend.