Happy Fall as the Autumn equinox occurs at 8:54PM Saturday evening but we won't see the true equal amount of daylight and nighttime until this Thursday and Friday when the sun will rise near 7am and set at 7pm.
Although it might officially be fall it is still going to feel very summer-like this week with highs in the upper 80s to near 90 with heat indices in the mid to upper 90s.
Not only will we still have the warm and humid conditions but with a couple different fronts situated near the region all week we will have about a 60% chance for scattered showers and storms each afternoon.
Like we have seen some of these showers or storms could be on the strong side producing rounds of heavy downpours and gusty winds up to 30-40 mph but I am not expecting any severe weather or flooding issues.
Looking ahead to next weekend the pattern doesn't look to change much meaning it will continue to be warm and sticky with highs in the upper 80s to near 90, along with a 40-50% chance for hit or miss showers and storms during the afternoon.
– – – – – – – – – – – – – – – – – – – – – – – – – – – –
In the Atlantic things are getting busy again as we now have Tropical Storm Kirk, Tropical Depression 11 and 2 other areas that the National Hurricane Center is watching closely for possible development in the next 5 days.
I'll start with Tropical Storm Kirk which formed Saturday morning just off the west coast of Africa.
As of the 4PM advisory Kirk had sustained winds of 40 mph and was moving to the WNW at 15 mph.
Over the next several days Kirk will not be much of an issue as it quickly tracks across the Atlantic strengthening slightly into a strong tropical storm with winds up to 60-65 mph.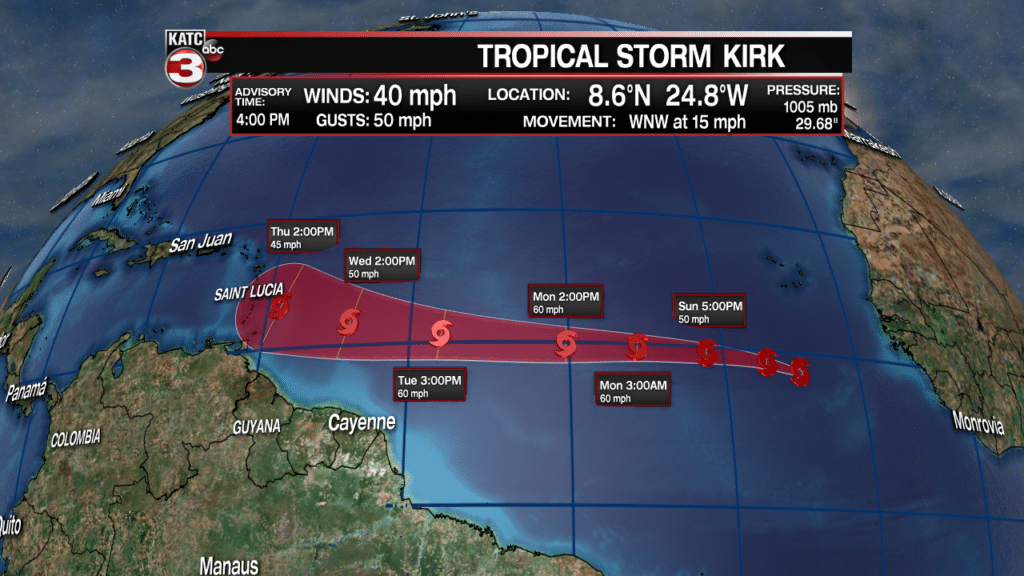 By the second half of this week Kirk will begin to approach the Lesser Antilles Islands.
After it moves into the Caribbean Sea it should weaken by we will have to keep an eye on this system by next weekend as any system in the Caribbean could maybe work into the Gulf but most models keep the system to the south towards Central America.
As for Tropical Depression 11 it is running into a lot of wind shear but is hanging on with a few cluster of thunderstorms still producing winds up to 30 mph.
The hurricane center expects this system to dissipate Sunday afternoon as wind shear should tear apart the depression.
Also, in the Atlantic the hurricane center is watching a board low of showers and storms out in the middle of the ocean that now has a 70% chance of development in the next 5 days.
Most models have this low strengthening in the coming days and should become Leslie but the good news is this storm will not threaten any land.
Finally, the center is watching a cluster of showers and storms south of Bermuda.
This system has a 40% chance of development in the next 5 days as it slides to the west towards the East Coast but most models are not to confident this will be much of anything should it organize but could bring more rain to the areas dealing with widespread flooding from Florence.