Acadiana will continue to experience the usual late summer weather pattern with partly sunny and hot conditions early in the day, followed by scattered showers and thunderstorms in the afternoon. All the while, the Atlantic tropics will stay quite active.
Rain chances this weekend should be closer to the 40-50% range Saturday and back to near 50-60% Sunday.
And per usual, some storm may contain brief torrential downpours, frequent lightning and gusty winds in their immediate vicinity.
Moving into next week, a good chance of mainly daytime showers and storms will continue through mid-week, with rain chances in the 60% range.
Toward the end of next week it does appear that lower atmospheric moisture levels will decrease allowing for rain chances to also decrease into the 20-30% range by Friday with those numbers carrying into the following weekend.
Meanwhile, the tropics have become quite active, but it is September after all.
In addition to Tropical Storm Florence, the National Hurricane Center (NHC) has upgraded to disturbances in the Eastern Atlantic to Tropical Depressions Number 8 and 9.
All three systems are expected to become hurricanes, and in Florence's case, a hurricane again, and quite possibly, a major hurricane once again.
Florence is expected to become a hurricane by late this weekend and is anticipated to re-intensify to major hurricane status moving into next week.
It no appears that a ridge of high pressure that will be north of the storm at that time may force the system closer to the U.S. East Coast toward the end of next week, so this system will likely garner plenty of attention over the next week plus.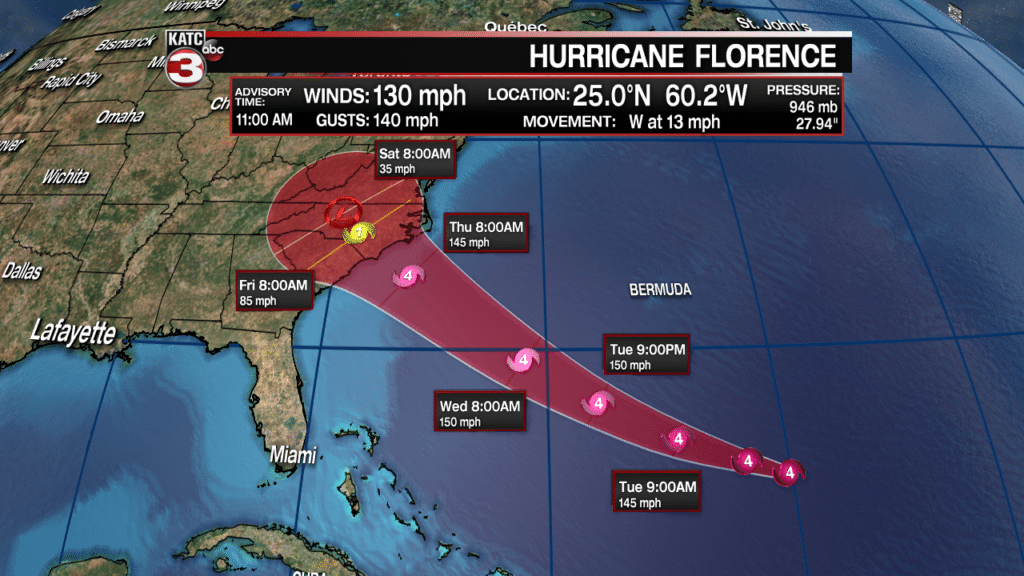 Much farther to the east, two new tropical depressions were upgraded by the NHC.
Tropical Depression #8 has formed off the coast of Africa and is expected to slowly gain strength and eventually become a hurricane.
TD #8 is expected to eventually turn northward, stay in the Atlantic, and never become a threat to North America.
Of perhaps greatest interest for residents of the Gulf Coast and most certainly the Caribbean, Tropical Depression #9 is also expected to gradually strengthen and eventually become a hurricane prior to reaching the Eastern Caribbean by mid-late next week.
While it's way to early to call where TD #9 will ultimately go, both the GFS and Euro Model bring the system through the Southern Caribbean through the 10 day period.
Both long range models put the potential system associated with TD #9 in the vicinity of Jamaica to near Central America by the end of next weekend.
But those forecasts are relatively worthless at this time, but it only demonstrates that if we were to be concerned with this system as any kind of Gulf of Mexico threat, it would be roughly two weeks away!
Nonetheless, it is the peak of hurricane season, and whether it's expected to be a busy season or not, it usually is busy in the month of September…and theoretically, the future of Florence and TD #9 may be the only systems the U.S. may have to be concerned with this year…we'll see.