After not seeing much as far as impacts from Gordon on Wednesday we will see the return of afternoon showers and storms today as what's left of Gordon lifts up through Arkansas pulling Gulf moisture over Acadiana.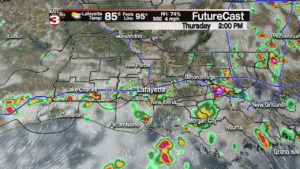 But before the showers arrive we will have a mix of sun and clouds warming temperatures into the upper 80s and factor in the humidity and it will feel more like the upper 90s.
Friday looks to be a carbon copy of Thursday so we will have times of morning sunshine before clouds build during the afternoon along with a 50% chance for hit or miss showers and storms.
A few of these showers and storms could drop rounds of heavy rain as there is plenty of tropical moisture in place coming off the Gulf which could produce minor ponding on roadways and in low lying areas but widespread flooding will not be an issue.
This weekend Gordon will merge with a frontal boundary over the Missouri Valley bringing heavy rains for Arkansas, Missouri and Illinois.
Locally, high pressure to our East will keep a southerly flow off the Gulf while the frontal boundary will be draped over east Texas sparking off a 40% chance for pop-up showers and storms Saturday and Sunday afternoon.
So, if you are going to the LSU vs Southeastern game Saturday you might have to dodge a few showers while tailgating but the showers hopefully will clear out in time for the game which kick-offs at 6pm.
Moving into the first half of next work week the frontal boundary will swing down into Louisiana producing a high chance(60%) for scattered showers and storms Monday and Tuesday.
The front then looks to wash out and we go back to a late summer pattern with winds off the Gulf keeping us warm and humid, along with daily chances for pop-up showers and storms, for the rest of the work week.
– – – – – – – – – – – – – – – – – – – – – – – – – – – – –
In the Atlantic Hurricane Florence has weakened a little this morning as it is running into a wind shear on the western side of the storm but it is still a category 3 storm with 115 mph winds.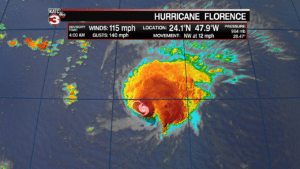 Florence is projected to continue its slight weakening trend the next couple days down to a category 2 hurricane as it fights through the wind shear while tracking to the NW at about 12 mph.
By early next week the wind shear will relax and Florence could re-strengthen back to a major hurricane with 125 mph as it moves just south of Bermuda.
Once it moves pass Bermuda that is when the models diverge, so areas along the East coast will have to monitor Florence's forecast closely but the good news is a few more models are having it turn north and stay away from the United States.
Also, in the Atlantic the National Hurricane Center is watching 2 tropical waves off the west coast of Africa.
The first wave is following a similar path of Florence and is moving over the cooler turned up waters from Florence so development has been slow but the center gives the wave a 70% chance of becoming a tropical cyclone in the next 48 hours and a 90% chance of development in the next 5 days.
This storm would be called Helene and it would be the 8th named storm of the season.
The second wave is just now moving off the African coast but the center has increased its chances of development over the next 5 days to 50% as most models show the wave will encounter favorable conditions for tropical characteristics to form as it moves across the Atlantic.
Both of these waves are still several thousands of miles away for us so nothing to worry about in the short term but I will be keeping an eye on them to see where they could eventually head over the next 10+ days.