To close out the work week and the month of August we will have another hot and humid day with highs in the lower 90s and heat indices approaching the century mark.
And thanks to some drier air in the middle levels we will have one more relatively dry day across Acadiana, however I will not rule out one or two pop-up showers and storms this afternoon with the daytime heating.
Thus, the weather looks great tonight for the start of high school football throughout Acadiana.
Unfortunately, for those going out to the UL home opener against Grambling State on Saturday you might have to dodge a few isolated showers, especially if you are tailgating during the afternoon.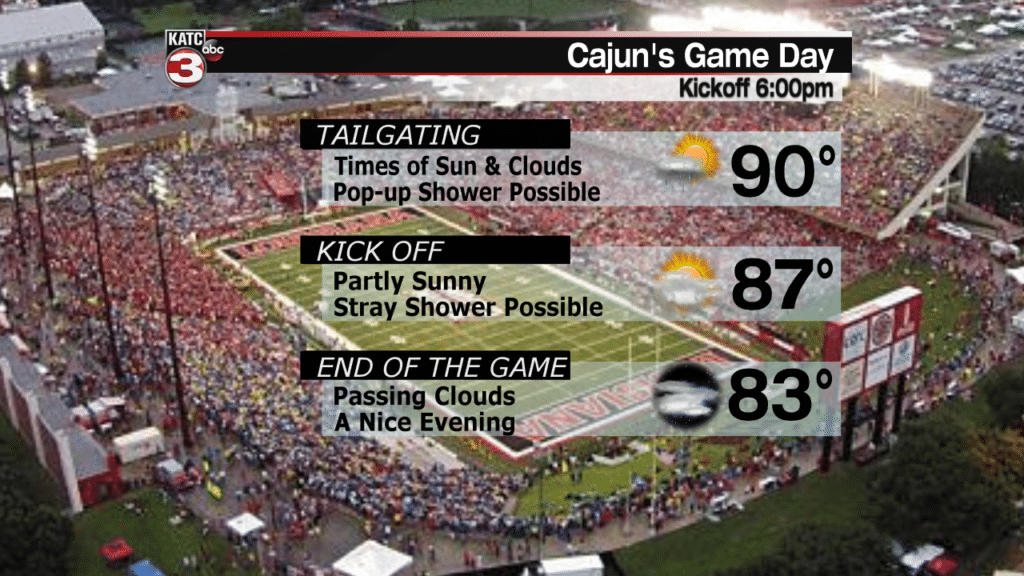 For the rest of the Labor Day weekend scattered showers and storms are a good possibility(50-60%) Sunday and Monday afternoons, so your barbecues or pool parties could be interrupt by the rain but the good news is the showers will not last all day.
Then heading back to work on Tuesday and into Wednesday rain chances will remain up around 50% for hit or miss showers and storms as a wave of tropical moisture moves into the Gulf.
Right now, this wave is located by the Dominican Republic and is encountering some wind shear and other unfavorable conditions preventing the disturbance from developing too much in the coming days.
Eventually, this wave of showers and storms will slide towards Florida by Labor Day producing moderate to heavy rains for central and south Florida.
The good news is the models are now starting to come to an agreement that this disturbance will then slide out into the Gulf and remain fairly unorganized as it travels to the west sending rounds of showers and storms along the Gulf coast for the middle part of the upcoming work week.
Also, way out in the Atlantic Potential Tropical Cyclone Six has failed to form a closed area of circulation, as of Friday morning.
That said the National Hurricane Center believes this system will strengthen in the next 12 hours and create a well-defined center of circulation causing it to become Tropical Storm Florence.
Florence will then slowly strengthen in the coming days this weekend as it drifts west and eventually could become a hurricane by the middle part of next week over the central Atlantic.
Thankfully, this system is several hundreds of miles away from the United States and will remain way out to sea and just a storm for the fishes.