KATC is gearing up for the playoffs on Friday Night Football. This week kicks off week ten of Acadiana high schools going head to head on the football field.
Below is a schedule of games coming up in Acadiana on Friday, November 9

5A
25 Comeaux at 8 Ruston
30 Live Oak at 3 Acadiana
4A
25 Westgate at 8 Plaquemine
21 Cecilia at 12 Livonia
29 Opelousas at 4 Neville
30 Franklinton at 3 St. Martinville
22 Carencro at 11 Assumption
18 Lutcher at 15 Breaux Bridge
31 Rayne at 2 Warren Easton
3A
32 Kipp Renaissance at 1 Iota
20 West Feliciana at 13 Church Point
30 Jennings at 3 Kaplan
19 Sophie B. Wright at 14 Crowley
22 Berwick at 11 Northwest
27 Erath 6 at Lake Charles College Prep
31 Brusly at 2 Eunice
2A
32 Ville Platte 1 Many
28 West St. Mary 5 Welsh
22 Northeast 11 Lake Arthur
1A
21 Elton at 12 Homer
20 Centerville at 13 Gueydan
27 Tensas at 6 Basile
26 North Central at 7 Delhi
Division II
3 St. Thomas More – Bye
10 Teurlings at 7 Parkview Baptist
Division III
1 Notre Dame – Bye
11 St. Thomas Aquinas at 6 Catholic NI
10 Riverside Academy at 7 Ascension Episcopal
Division IV
12 Covenant Christian at 5 Opelousas Catholic
13 Houma Christian at 4 Lafayette Christian
14 Cedar Creek at 3 Vermilion Catholic
11 Sacred Heart at 6 St. Frederick
10 Catholic P.C. at 7 St. Edmund's
Game of the Week:
Our game of the week takes us to Vermilion parish where Guyedan (6-3) hosts Centerville (5-5.) It's the Bears first home playoff game since 2009. After consecutive losses to district muscles Vermilion Catholic and Lafayette Christian, the Bears ended the year on a high note with a 64-0 win over Highland Baptist. Centerville saw it's stock fall down the stretch with back-to-back loses to Central Catholic and Hanson Memorial to close the year. Those loses were two of the closest games the Bulldogs played in this year. Neither team has seen much close action. The average score differential in Centerville games is 28 points, Gueydan's game have been decided by an average of 36 points.
KATC is everywhere this year for Friday Night Football. Catch all the action from teams around Acadiana Fridays at 10:35 pm on KATC and continued on KATC.com/live or on the KATC app for our new show Friday Night Football: Overtime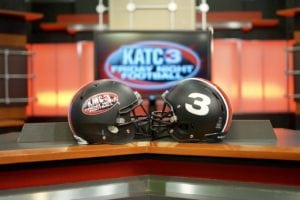 Friday Night Football set in the KATC studio
Follow our Sports team below:
Facebook: KATC Sports
Twitter: KATCTV3
Download the Scorestream app to keep up with the latest scores.
Share your updates using your iPhone or Android device with the FREE ScoreStream app. The app is super easy to navigate. (CLICK HERE FOR A TUTORIAL ON THE APP)