KATC is gearing up for Friday Night Football. This week kicks off week seven of Acadiana high schools going head to head on the football field.
Game of the Week:
This week KATC's Game of the Week…Teurlings at St. Thomas More
Week 7 for Friday Night Football features some one the biggest matchups we've seen this year. No. 3 Church Point heads to No. 1 Iota, unbeaten Sam Houston plays Acadiana in classic 3-5A showdown and No. 5 Teurlings plays crosstown rival No. 2 St. Thomas More and the latter earns our game of the week honors this Friday.
There are few rivalries as rich as STM and Teurlings and when both are top-5 programs in Division II, the stakes are high.
TCHS is as tested of a team as there is Louisiana, while STM's offense is one of the most exciting in Acadiana. Friday's matchup will have a postseason feel.
Below is a schedule of games coming up in Acadiana on Thursday, October 11, 2018- Friday, October 12, 2018.
*All Games are at 7:00 p.m. unless otherwise noted
Thursday, October 11, 2018
Notre Dame at LC Prep
Hanson at Highland Baptist
Friday, October 12, 2018
Lafayette at Comeaux
Sam Houston at Acadiana
Barbe at New Iberia
Opelousas at Beau Chene
Livonia at Breaux Bridge
Westgate at Carencro
Cecilia at St. Martinville
Northside at Rayne
Teurlings at St. Thomas More
Abbeville at Patterson
Church Point at Iota
Crowley at Mamou
Pine Prairie at Eunice
Westlake at Jennings
Kaplan at Berwick
North Vermilion at Erath
Port Barre at Northwest
Ascension at Franklin
Loreauville at Catholic N.I.
Delcambre at Ascension Chrsitian
Welsh at Lake Arthur
Ville Platte at Kinder
Elton at Basile
Vermilion Catholic at Gueydan
Lafayette Christian at Centerville
North Central at Sacred Heart
Oberlin at St. Edmund
Westminster at Catholic P.C.
KATC is everywhere this year for Friday Night Football. Catch all the action from teams around Acadiana Fridays at 10:35 pm on KATC and continued on KATC.com/live or on the KATC app for our new show Friday Night Football: Overtime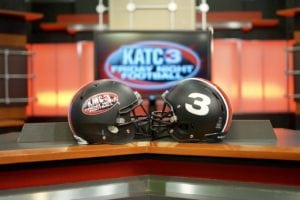 Follow our Sports team below:
Facebook: KATC Sports
Twitter: KATCTV3
Download the Scorestream app to keep up with the latest scores.
Share your updates using your iPhone or Android device with the FREE ScoreStream app. The app is super easy to navigate. (CLICK HERE FOR A TUTORIAL ON THE APP)