Friday Night Football week two is underway as teams from around Acadiana gear up to go head to head under the Friday night lights.
Below are scores from games in Acadiana:
Welsh vs. Kaplan is KATC's Game of the Week.
The Pirates are seeking their first win in 2018 after another close loss to Acadiana last week 27-20. Meanwhile the defending 2A champion Welsh Grayhounds opened 2018 with a commanding 41-16 win over Rayne. Two teams dreaming of a trip to the dome meet in an early season non-district showdown.
KATC is everywhere this year for Friday Night Football. Catch all the action from teams around Acadiana Fridays at 10:35 pm on KATC and continued on KATC.com/live or on the KATC app for our new show Friday Night Football: Overtime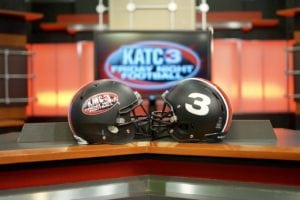 Follow our Sports team below:
Facebook: KATC Sports
Twitter: KATCTV3
Download the Scorestream app to keep up with the latest scores.
Share your updates using your iPhone or Android device with the FREE ScoreStream app. The app is super easy to navigate. (CLICK HERE FOR A TUTORIAL ON THE APP)