The Humane Society of Louisiana says that 20 former parade horses have been adopted to new homes.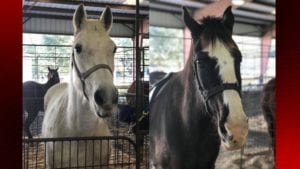 That number is a new record for the Human Society and its Mardi Gras Parade Horse Adoption Program which began three years ago. Over the past two years, the humane society says it has been able to rehome 32 former parade horses. The new adoptions bring the program's total to 52.
Four of the horses will be used for a riding program at Cascade Stables in New Orleans which buys and leases horses for use during the Carnival season. Sixteen other horses have been placed with private individuals.
The Human Society says that each applicant is screened before the adoption process is completed.
All 20 of the horses were featured on the Humane Society's Facebook page.