Students at Holy Family Catholic School had some fun while learning today in celebrating Synergy Day.
Students challenge teachers in activities, and there's a focus on the students' Accelerated Reading and math accomplishments.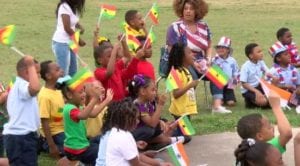 Gabrielle Armstrong, second grade teacher, said the program is about three years old. A committee of staff comes up with different activities for each quarter the school year, she said.
The students challenge the teachers in activities like tug of war or basketball, and the students' achievements in math and reading are celebrated.
The aim is to encourage children in reading and math, she said.
But the teachers also learn, she said.
"We learn that kids can be leaders just as well as we can, and they can be challenging, just as we are," Armstrong said.
The students enjoyed the day. "It teaches us how to be leaders and how we can be successful in life and how we can be more proactive and lead toward more leadership opportunities in life," said students Milena Sonnier and Ariana Smith.