An Acadiana family with a history of service celebrated a special day recently.
PFC Jarred LeJeune pinned the blue cords of his brothers, PVT Thomas Chaisson and PVT Zachary LeJeune, at their "Turning Blue" ceremony.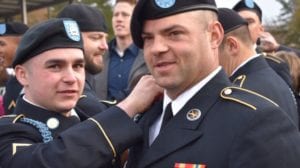 The ceremony is a special event for soldiers who complete their infantry training, explained their mom, Julie Williams of Duson.
Jarred is the younger brother, but he joined the military first. He was able to pin his brothers because only another soldier or veteran is able to perform the service, their mom said. Their grandfather was a veteran, who passed away in 2005. Their uncle, Williams' brother, also is a member of the U.S. Army but wasn't able to attend; he's stationed at Ft. Bliss in Texas, Williams said.
Williams' forth son, Jeff Trahan, works in the oil field. He's a grad of Jennings High.
"With each person and family in this world, little things accomplished in their life is a big thing to them. My sons have accomplished going through basic training, and have transformed from an "everyday young man" to an infantryman. They are starting a new journey in life, God has some amazing things planned for them, I'm sure," Williams told us. "As a mom, I worry, especially since I have heard already they may be deployed next year. (Surprisingly, they may all be deployed at the same time too, which that is something I don't want to think about right now) but I know the good Lord will take care of them, and I must put my trust in Him, as well as my sons leadership, that they have trained these soldiers well."