For most of Acadiana we have seen things quite down this afternoon allowing many to start the clean up process following the severe storms early this morning.
However, for our neighbors in Beauregard and Calcasieu parishes they have continued to see strong to severe storms this afternoon with reports of large hail up to the size of quarters near DeRidder.
A flash flood warning continues for north Beauregard parish until 5:15 PM this evening as persistent storms in the area have produce another 2-4 inches of rain on top of the heavy rains they received early this morning.
As for the rest of Acadiana we are drying out after picking up 2-3 inches of rain this morning.
Unfortunately, this heavy rainfall is causing river flooding along the Vermilion as levels at Surrey Street crested at 12.6ft this morning but have since have fallen back down near 12 feet, which is still 2 ft above flood stage.
Heavy rains have also caused the Mermentau River to rise to 5.1ft and is expected to get as high as 6 feet by Tuesday afternoon.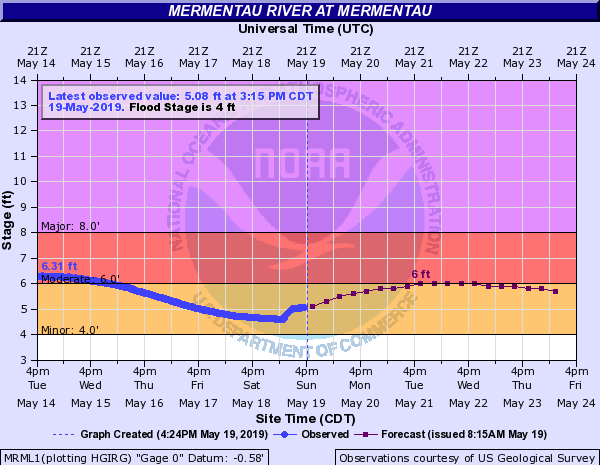 The good news is outside a slight chance for a stray shower Monday afternoon the forecast over the next 10 days looks dry which should help the rivers to slowly drain and go down.