High pressure will slide over the region Monday creating an absolutely fantastic day with mostly sunny skies and seasonal temperatures in the low to mid 80s.
The best news is drier air will also be pushed down over the region on Monday helping Acadiana to dry out after most of us saw 6-10 inches of rain over the past several days.
The dry and sunny weather continues on Tuesday as high pressure remains in control.
Wednesday as the high begins to scoot off to the east and winds turn more easterly we will have to watch as a stationary front out in the Gulf will inches closer to shore sending us the possibility for a few stray showers.
By Thursday high pressure returns to the area creating another beautiful day with sunny skies and a few puffy cumulus clouds during the afternoon.
Friday and Saturday look dry as well with a mix of sun and clouds although a bit on the warm side with temperatures pushing the upper 80s.
Now with all that heating and lots of moisture still on the ground from last weeks rain a few pop-up showers during the afternoon can not be ruled out but rain chances will only be at about 20% Friday and Saturday.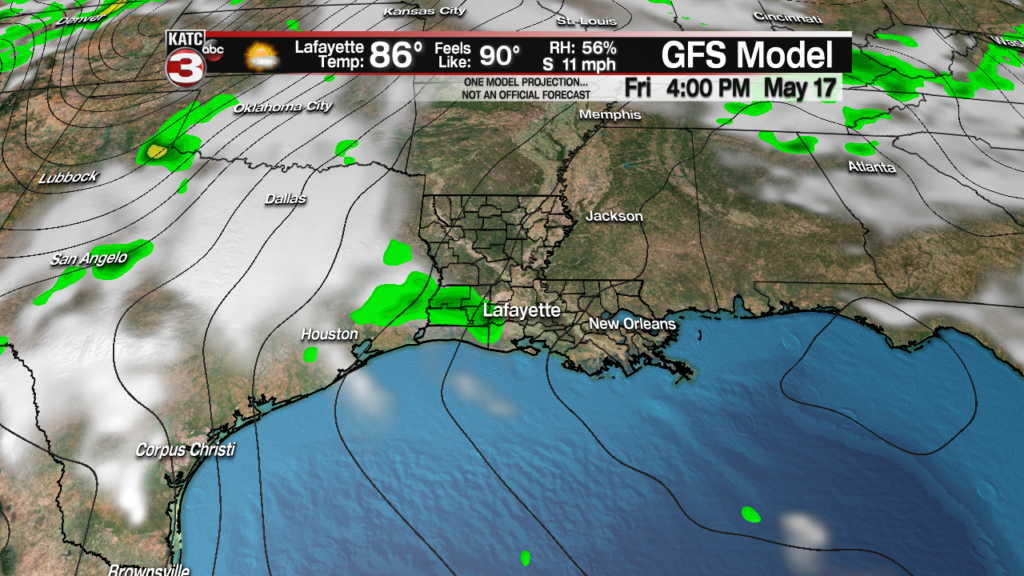 Sunday looks to be our next best chance for scattered showers and storms as a cold front moves into Louisiana.
This front could then stall out over the pelican state causing more scattered showers and storms to continue into the following Monday.
But beyond that we look to dry out again with partly cloudy skies and temperatures hovering in the upper 80s.