Acadiana will get to experience two seasons this weekend with warm spring conditions Saturday yielding to a more January-like feel Sunday thanks to a cold front that arrives Saturday evening.
After a morning start in the lower 60s Saturday, look for partly to mostly cloudy skies, breezy and warm conditions along with a few isolated showers Saturday afternoon.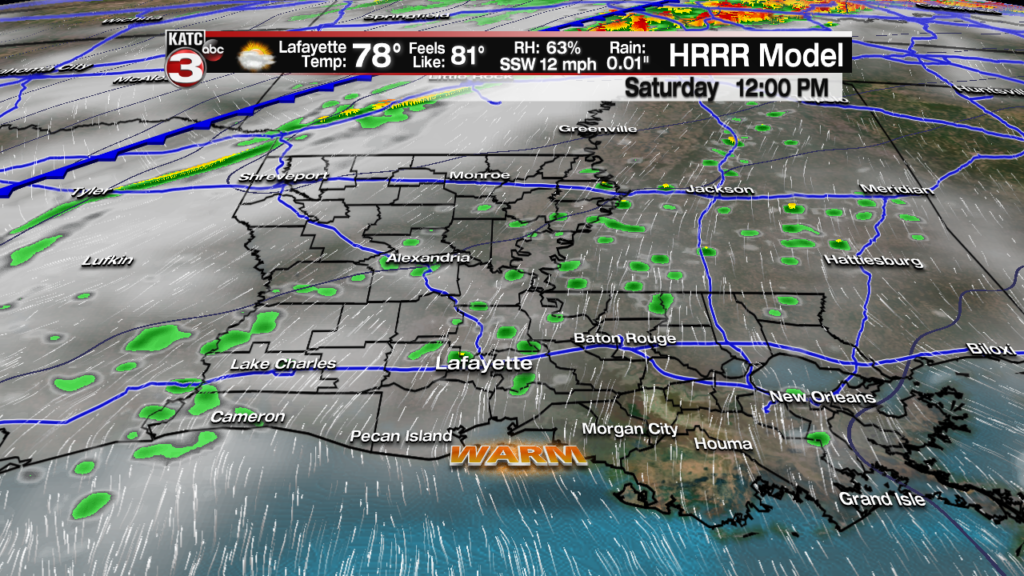 Temperatures Saturday will likely top out in the balmy lower 80s.
Rain chances will be near the 20% range Saturday afternoon, but will briefly increase to near 70% Saturday evening as a cool front sweeps from the northwest to the southeast across the area.
The front should arrive in the Lafayette area around 8 to 9 pm give or take an hour.
Expect mostly shower activity Saturday evening but a thunderstorm, perhaps a stout one with gusty winds and perhaps some small hail, cannot be ruled out.
The Storm Prediction Center however, has any threat of severe weather, and a marginal one at that, for extreme Northeast Louisiana into Mississippi.
After the front crosses Acadiana Saturday night, there will be a few lingering mostly light showers that could follow through early Sunday morning.
Rain chances will diminish Sunday afternoon but the clouds will stick around.
The big story will be the drastic temperature change behind the front with temperatures dropping into the upper 40s to lower 50s Sunday morning.
Readings Sunday afternoon will not top out much higher than the mid-50s. And with a stiff north wind under cloudy skies, it will feel more like January rather than the last day of March…and that's no April fool!
Monday will be another day of quick changes with some sun early yielding to clouds and a few showers late in the day as a quick disturbance rolls through the area.
Temperatures will stay seasonably cool through Tuesday morning but then begin a slow moderating trend for the rest of the week.
The extended outlook calls for a couple of nice and milder days Tuesday into Wednesday, but the pattern gets warmer and more unsettled with some rain chances possible starting Thursday, with improving prospects of rain and some storms into next weekend.