Acadiana will experience some wild weather swings this weekend with a round of strong storms and spring-like temperatures early Saturday with temperatures plummeting to near freezing accompanied by wind chills in the low-mid 20s just 24 hours later Sunday morning!
A squall line associated with a strong cold front will advance through Acadiana from west to east roughly between 6 and 10 am Saturday, give or take an hour or two, with a few strong, possible severe storms.
Latest Predictive Radar:
The Storm Prediction Center (SPC) has all of Acadiana hatched in for a low end, "marginal" risk of severe storms.
The primary threat from the storm Saturday would be isolated areas of damaging winds, but an isolated, weak tornado cannot be ruled out, especially toward Eastern Louisiana where the risk is a little more significant, in the "slight" category.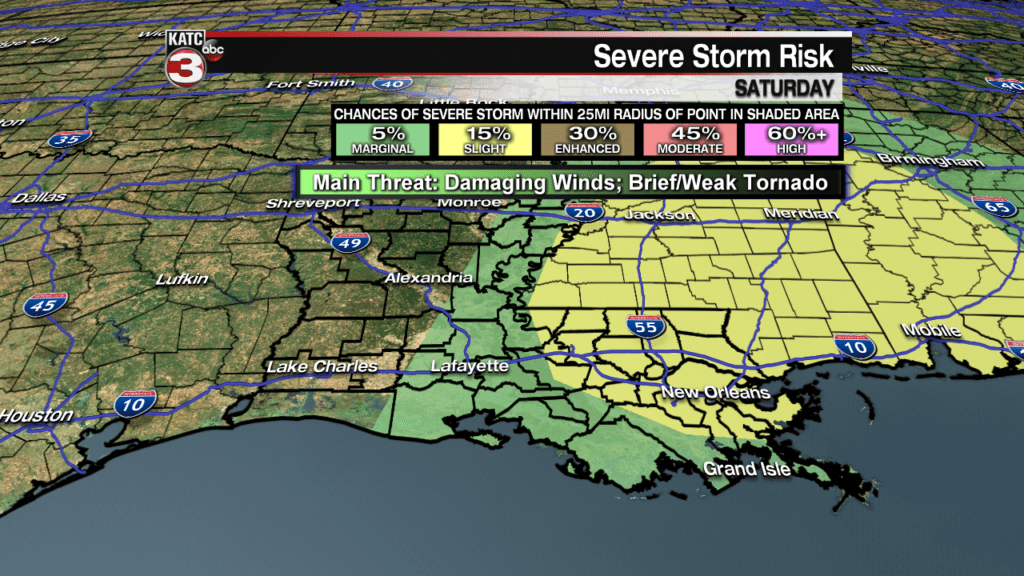 While upper wind profiles and shear remain impressive, per usual in the winter, lack of instability thanks to a cool, wet blanket the Gulf of Mexico throws on severe weather dynamics will probably prevent too many issues.
Should temperatures and dew points get above 70-72F…which is the usual threshold for severe weather, then the storm could root their stronger dynamics down to the surface…currently it does not look like this will happen Saturday.
Because Saturday's system will be fast-moving, rainfall amounts will generally be 1/2 an inche or less, but a few isolated spots could see up to an inch.
After the morning storms, expect a continuation of mostly cloudy skies with winds shifting and increasing out of the northwest Saturday afternoon and evening.
Sustained winds will start from the southwest near 18-28 mph with gusts to 35 mph possible, shift to the northwest for the afternoon, and gradually increase into Saturday night all the while much colder air is spilling into the region.
Latest FutureCast Winds:
And winds offshore will approach gale conditions…thus, the National Weather Service has issued Gale Warnings for the offshore Louisiana Coastal Waters.
Offshore Wind Forecasts:
Temperatures early Saturday will start in the mid-upper 60s but will plummet into the upper 40s before the sun sets in the afternoon, likely heading to very near the freezing mark by Sunday morning.
And with gusty winds continuing through Sunday morning, wind chills will likely be in the low-mid 20s!
Sunny skies, breezy conditions and chilly temperatures are anticipated Sunday with highs in the upper 40s to lower 50s expected for the afternoon.
Winds will diminish Sunday night as temperatures are expected to drop down to the 28-31 degree range area-wide, with frost likely Monday morning.
Fortunately Acadiana can expect only light freezes…pipe-busting hard freezes are not in the forecast.
Moving into next week expect sunny and cool conditions Monday to yield to cloudy and much milder conditions Tuesday ahead of another rain-maker Wednesday.
There is a lot of disagreement in the long-range models beyond mid-week, but both the Euro and GFS are beginning to suggest that "colder" and more "interesting storm systems could be in Louisiana's future from the last weekend of the month into the first weekend of February….we'll see!
For now, consult the latest 10 Day Forecast for our best guesses beyond mid-next week!