Acadiana will see a return of more spring-like temperatures through the end of the week with a few passing showers overnight through midday Thursday.
The showers, associated with a weak upper disturbance, will generate mostly light, scattered activity after midnight Wednesday through midday Thursday.
Temperatures overnight Wednesday into Thursday morning will likely hold in the low to mid 50s.
Our models show some sun for Thursday afternoon, which should push temperatures to near 70 for the afternoon.
Look out for fog Thursday night into Friday morning with a strong signal that sea fog will advance inland as early as Thursday evening.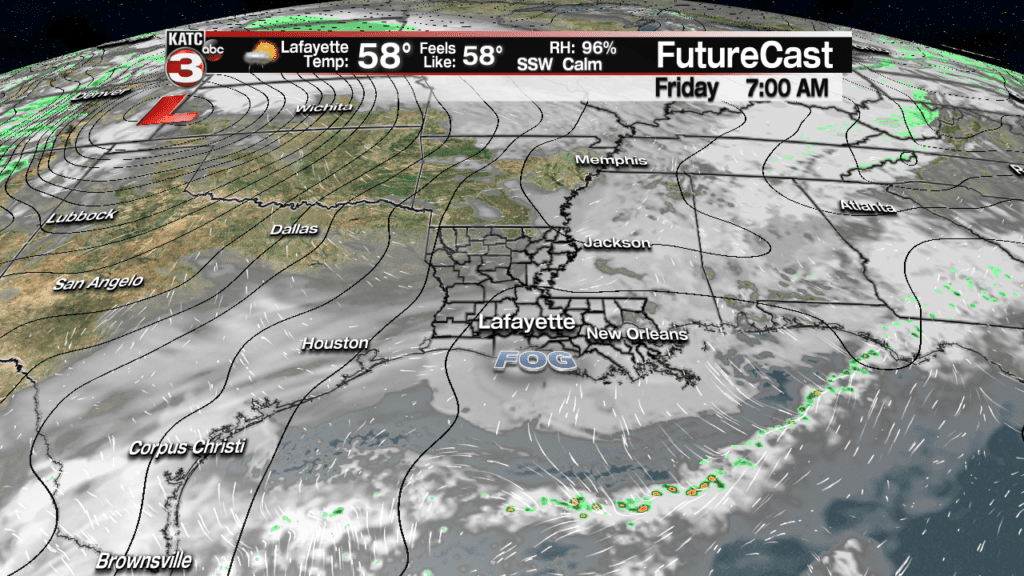 After morning fog Friday, look for partly to mostly cloudy and mild conditions with highs in the lower 70s. A passing shower or two may be possible, but rain chances should be in the vicinity of 20%.
Saturday, a strong storm system (that will be another big snow storm well to our north and nearly from coast to coast) will likely deliver a good chance of rain and a few storms primarily early Saturday.
Rain chances will be pushing 90% Saturday morning but should decrease to near 20-30% for the afternoon.
It appears that the strongest upper dynamics with Saturday's weather system, may be lag behind the front so any organized severe weather is not anticipated at this time.
Rainfall should be in the vicinity of 1/2″ or less for most of us in Acadiana, with higher rain totals of several inches possible closer to the northern part of the state.
Temperatures in the mid-upper 60s Saturday will plummet into the mid-30s behind the front by Sunday morning. Wind chills Sunday morning could drop into the mid-20s.
Sunny, windy and cold conditions are anticipated Sunday with highs only in the mid-upper 40s with wind chills staying in the 30s most of the day.
The coldest readings should arrive in Acadiana Sunday night into Monday morning with lows ranging from the upper 20s to lower 30s…for now it appears that most of us will see a light freeze, but a hard freeze may be possible toward Central Louisiana Monday morning…stay tuned for the latest.
After another sunny and chilly Monday, temperatures will likely quickly moderate ahead of another frontal system that should deliver some rains back to the area by Wednesday.
Latest European Model: