After several sunny and seasonably cool days for Acadiana this week, the weekend promises changes in the weather pattern with plenty of clouds, some showers and a few storms, and a healthy temperature spread from Saturday to Sunday.
Look for clouds to increase with rising temperatures into the upper 50s after midnight Friday with a few showers possibly developing by daybreak Saturday.
An area of low pressure with a trailing frontal boundary will push through Acadiana during the day Saturday allowing for scattered showers, and perhaps a few thunderstorms.
Prime-time for most of the rain shower activity for Acadiana will be roughly from 8 am through 2 pm.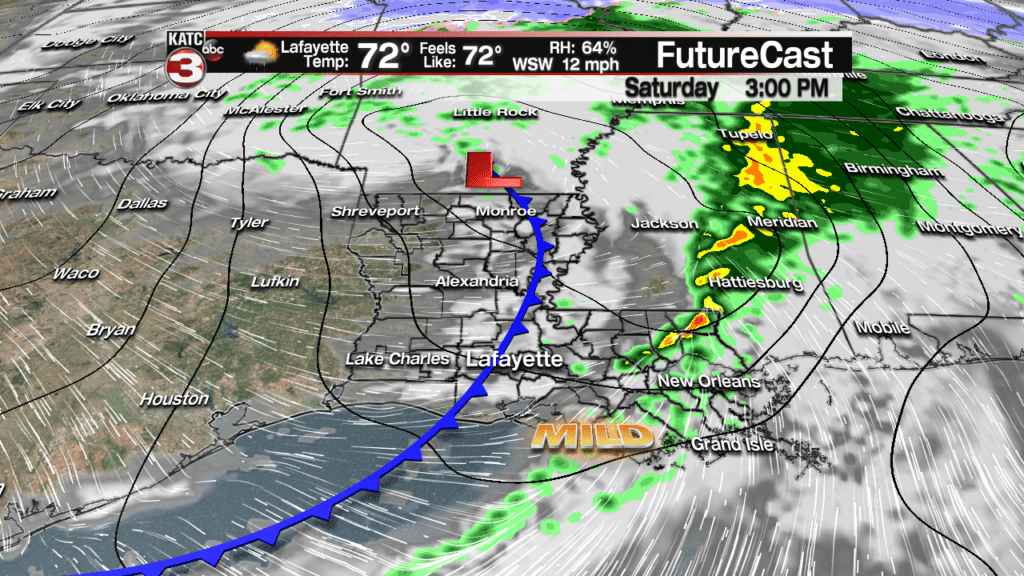 Rainfall amounts will be mostly light, with totals 1/2 an inch or less but could reach up to an inch in spots.
And after the shower activity, there could be a few intervals of sun in the latter part of the afternoon, making it feel quite spring-like, with temperatures reaching the low to mid 70s.
Mild conditions will follow into early Saturday evening, but as the night wears on, breezy and sharply colder conditions will advance into the area, especially after midnight.
After a brief period of clearing Saturday night, stratiform clouds will likely wrap around the system into Sunday, with breezy and cool conditions allowing temperatures to struggle to get above the 50 degree mark Sunday afternoon.
There could be some intervals of sun, mainly mid-late Sunday afternoon, and especially closer toward Southwest Louisiana.
Latest FutureCast:
The same storm system will also be responsible for some hefty snows in the nation's midsection, with a foot to 18″ of snow possible (Per the RPM Model) from Missouri to Illinois, with the St Louis area expected to get hit particularly hard.
Locally, expect a return of mostly sunny and cool conditions to Acadiana early next week, followed by a more unsettled and eventually a wet period developing toward the end of next week or into the following weekend.
Long range models continue to be at odds on the weather pattern beyond five days, with the GFS model wetter and milder in the 6-12 day period, while the European model is keying in on a shot of arctic air trying to make a run for the eastern U.S. and perhaps a glancing, brief, cold blow reaching the Gulf States in the 10-12 period.
Long Range Model Guidance:
The bottom line, look for more changes in the latter part of the 10 Day Forecast to come!