Cloudy skies and periods of rain shower activity will be likely for Acadiana for the last three days of 2018…and more than likely, not much sun is anticipated until nearly a week down the road into 2019!
A series of upper disturbances will interact with a nearly stationary frontal boundary off the Louisiana coast allowing for occasional periods of rain shower activity Saturday, Sunday, and most/more likely, into early Monday.
While none of the aforementioned days will be a definitive washout, do plan on for some wet roadways from time to time through early next week. The rains will just be a plain nuisance!
Rain totals should be light Saturday and Sunday, near 1/4-1/2″ per day, but more rain Sunday night (with some embedded thunder possible) through Monday morning could add another 1/2-1″ to the totals.
It will be cool rains for Saturday as temperatures hover in the low to mid 50s, while Sunday temperatures will begin to creep into the low to mid 60s as the front edges farther to the north.
After morning rains and a few storms, a Monday afternoon/evening cool front will put a temporary end to the rain just in time for New Year's Eve, with lingering clouds and cooler temperatures likely for New Year's Day…but at least Tuesday will be dry…but it won't last long.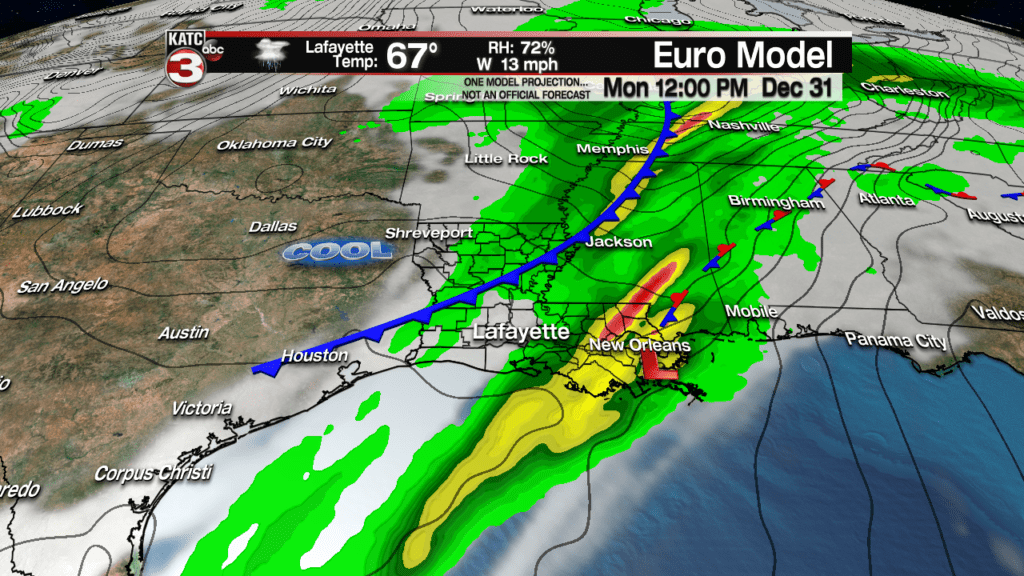 A stronger and colder storm system will bring more solid rains to the area Wednesday while temperatures hover in the local bone-chilling, for us in Acadiana, 40s…wind chill not included!
And it might be an interesting end to the precipitation come Wednesday night into early Thursday morrning, as it could be cold enough for some sort of a wintry mix, especially toward the northern part of the state but there won't be any significant accumulations in Acadiana as we'll be above the freezing mark.
There's is an extremely low chance of this occurring though here in Acadiana….but something to look for, especially for our friend to the north, just in case!
Wednesday's rains could be quite soaking though with another inch or two possible.
The Euro and GFS Models both like rain totals over the next 6 days inclusive to be in the 2″ range for most of Acadiana, but the Euro in particular makes it significantly soggier into Southeast/Eastern Louisiana where rain totals in excess of 3-5″ might be possible (closer to the tracks of low pressure systems riding along the frontal boundaries).
Thereafter, expected a blustery day Thursday as clouds linger, with temperatures holding in the 40s with a wind chill during the day, dropping close to the freezing mark by Friday morning.
Finally, plenty of sun is anticipated next Friday (yes a week from today), with more sun into the weekend that follows, along with milder temperatures to briefly return in time to take down the holiday decorations…and possible get the Mardi Gras decorations going!