If you liked temperatures in the low to mid 60s Thursday morning, you are going to love temperatures dropping into the low-mid 50s for Friday morning!
This will be the first time since the last week of April that we will see temperatures like this in Acadiana.
And after a cool start, look for a mild finish Friday afternoon, with temperatures topping out near 80.
FutureCast Temperature Forecast:
Expect lots of sunshine Friday with skies becoming fair to partly cloudy this weekend.
Temperatures and humidity will stay in the comfort zone Saturday but that should change Sunday as high pressure slides off to our east and allows a return flow from the Gulf of Mexico.
High temperatures Saturday will push the low-mid 80s with comfortable humidity, but look for afternoon readings Sunday to get into the mid-upper 80s along with more uncomfortable humidity.
There might be an isolated shower pop-up Sunday afternoon, but for now, rain chances will be near 10%.
Latest FutureCast:
After the weekend, a frontal trough will move into the region allowing for the chance of scattered showers and storms Monday and lingering showers Tuesday.
Temperatures will cool to below normal after Monday and may stay much of the week, but there may be a fair bit of lingering cloud cover for much of the week…but with the fall-like temperatures anticipated, you may not notice that as much!
Latest European Model:
Meanwhile in the tropics, after devastating the Gulf Coast, Tropical Storm Michael Thursday was producing flash flooding and tropical storm force winds across North Carolina and Virginia late Thursday afternoon.
Fortunately this system will be moving out to sea by tomorrow…good riddance.
Elsewhere in the tropics, Hurricane Leslie continues to churn away in the Eastern Atlantic Ocean and may threaten the Canary Islands in a few days as a much lesser storm, while farther south, tropical Storm Nadine should dissipate in a few days.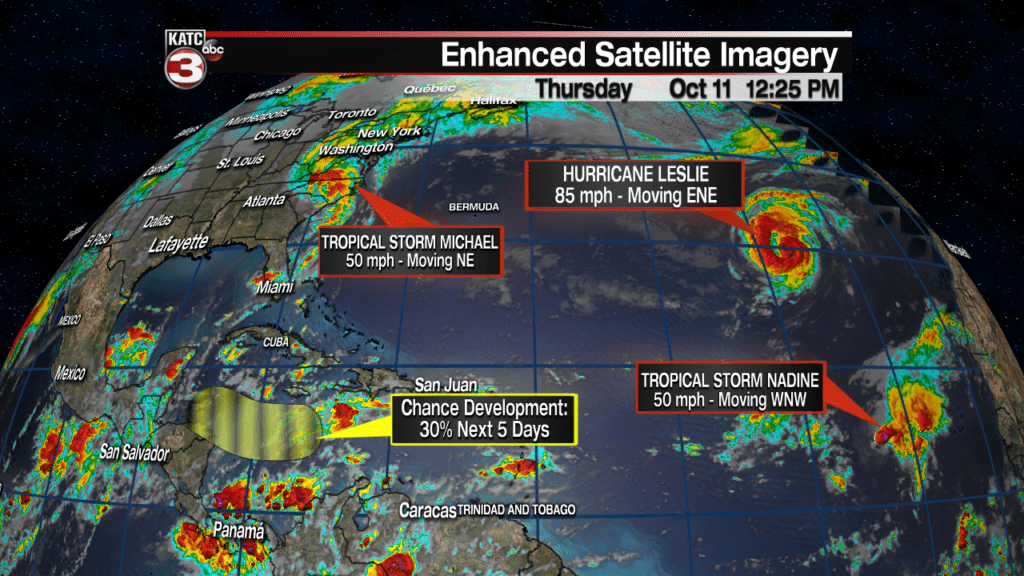 Closer to home in the Caribbean, per the National Hurricane Center…
A broad area of low pressure is expected to develop over the
west-central Caribbean Sea in a day or two.  This system is expected
to move slowly westward toward Central America through early next
week. Environmental conditions are forecast to support some slow
development, however, interaction with land could limit the chance
of formation once the system approaches Central America on Monday or
Tuesday.
This potential system does not pose a threat to the Northern Gulf of Mexico, but if it lingers in the Western Caribbean long enough, it could pose a more serious tropical threat to Central America and/or portions of Mexico beyond the 5 fay outlook period.
Latest Tropical Satellite Imagery: