Big summer heat and humidity will continue for Acadiana over the next several days, with the almost-ever-present chance of scattered afternoon showers and thunderstorms.
Rain chances Tuesday afternoon will be in the 30% range and may drop closer to 20% Wednesday and perhaps, Thursday.
Temperatures will be topping out in the mid-90s Tuesday while the heat index remains in mid-summer form, between 102-106F from the late morning into the afternoon hours.
Temperatures will reach the low-mid 90s Wednesday into Thursday but may get limited by additional tropical moisture that will feed into the region from the Western Gulf of Mexico toward the end of the week.
Rain chances should increase commensurately, to the 40% range, Friday into the weekend…helping to lower our daily highs closer to the 90 degree mark.
So far there is no certainty on when our first fall cool front will arrive, but there are hints that we may see a change close to the last couple of days of this month, or the first few in October.
Fall officially arrives on the calendar Saturday at 8:54 pm, but not in our local weather pattern.
Meanwhile in the tropics, it has quieted down considerably since last week with the remnants of Florence still producing the threat of flooding from the Appalachians into Pennsylvania.
Tropical Depression Joyce is the only viable system the Atlantic Basin and won't survive more than another day in the far eastern/northeastern Atlantic.
The remnants of Isaac remain poorly organized with the National Hurricane Center still maintaining a slight, 20% chance of regeneration as it approaches the Yucatan Peninsula over the next few days.
It is likely that this system will completely dissipate over the next few days, but some of the tropical wave's moisture could squirt toward the Western Gulf Coast late this week.
Elsewhere, it should be noted that a large mass of Saharan dust has exited the African Coast and is dominating the Eastern Tropical Atlantic, thereby killing any opportunity for Cape Verde systems to form over the next week, and more than likely anything forming in the Caribbean through the next 10 days.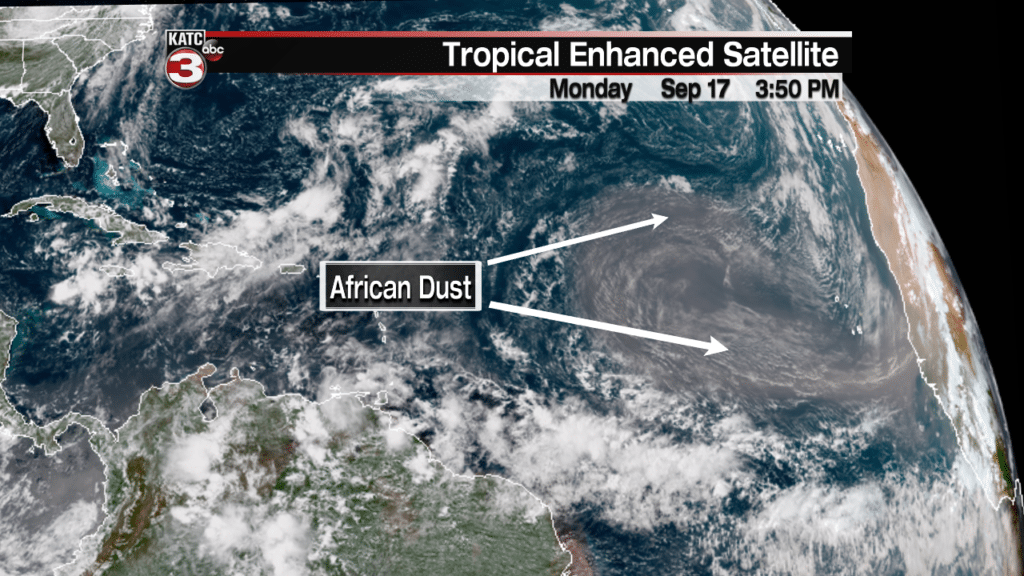 It should be noted though, that the longer range climate models, such as the CSFv2 Model, continues to indicate lower than normal pressures in the Gulf of Mexico going into the first week of October which could translate to a tropical system…we'll see.
But nearly at the same time, cooler air should be trying to move into the region, so we'll see it all plays out over the next few weeks.
Although the Atlantic hurricane season officially ends November 30, usually the threat of "big storms" for Louisiana decreases exponentially after the first week of October.