PETA is petitioning to build a permanent five foot tall memorial for lobsters who were killed in a recent truck accident in Maine.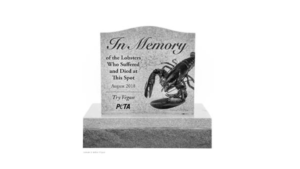 According to Brunswick Police, a seafood truck carrying nearly 70 crates of the crustaceans rolled over along route one, crushing several of them.
"Some lobsters were loose on the ground from being spilled over, and we just kind of went to work and tried to do as much as we could to save the ones we could," says Detective William Moir.
Police say dozens were trapped beneath the truck and several died in the crash, so now People for the Ethical Treatment of Animals want to memorialize the lobsters lost.
The director of PETA wrote a letter to the Maine Department of Transportation asking for permission to put up a 5 foot memorial at the site as a dedication to the delicacy.
"What's the difference between them falling on the road and dying or being thrown in boiling hot water? And we eat them every single day. either way, they're dead lobsters," says resident Janie Roy.
PETA says the point of the memorial is to remind people not to eat lobsters or other animals. The group calls lobsters "intelligent individuals who use complex signals to establish social relationships."