It will be a windy and mild Tuesday with the chance of scattered showers increasing into the afternoon hours.
Un upper level disturbance and surface trough will advance eastward toward Acadiana Tuesday that will bring the chance of showers to the area Tuesday afternoon, with lingering activity likely into the overnight hours and early Wednesday.
And with a low pressure system riding to our north, it appears there will be a tightening pressure gradient that will allow for gusty southerly winds.
A Wind Advisory is in effect for all of Acadiana Tuesday with southerly winds increasing 15-25 mph with gusts likely pushing 30-35 mph starting mid-morning and continuing into the afternoon.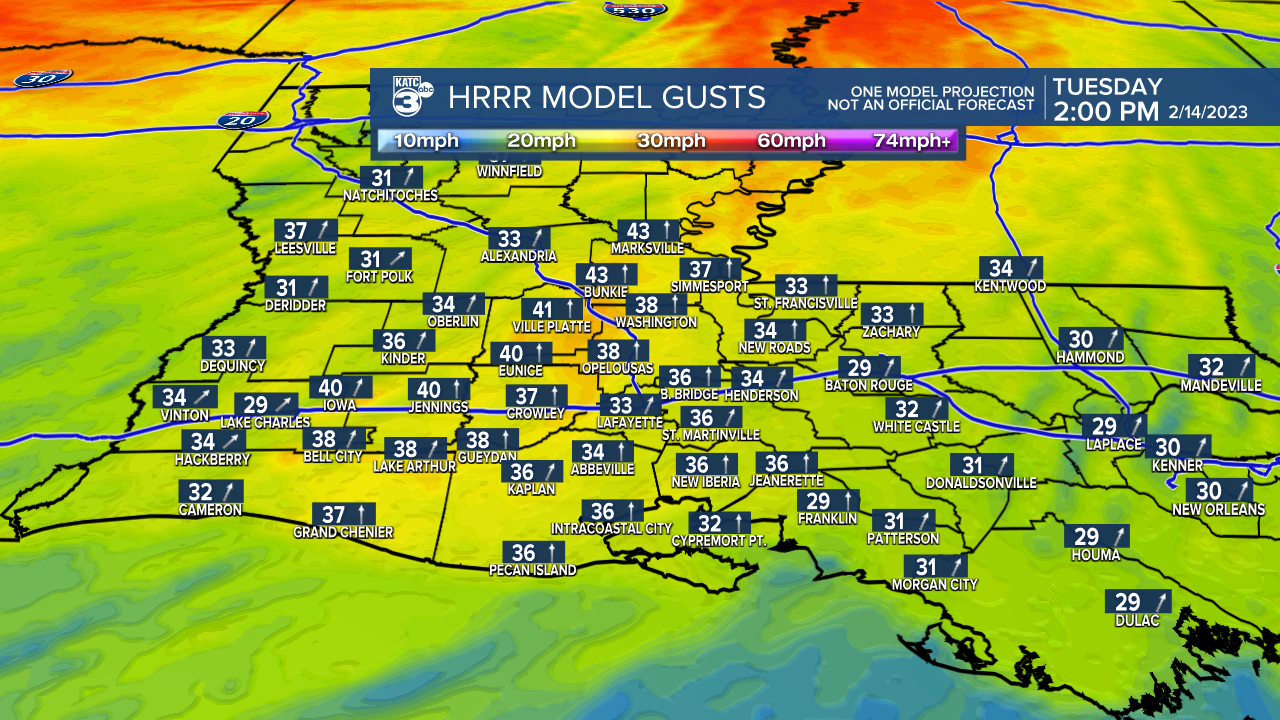 Look for the best chance of rain to arrive during the afternoon hours Tuesday, and with the frontal trough stalling in our area, there will continue to be the chance of showers into early Wednesday.
The rains Tuesday should not be heavy (although there could be an isolated thundershower)...rain chances as of this article are generally in the 60% range Tuesday afternoon and closer to 40% Tuesday night into Wednesday.
A secondary upper system is expected to bring an even better chance (80%) of showers and a few locally heavy/strong thunderstorms beginning as early as late Wednesday night into Thursday.
While not clear, there could be the potential for a few strong to perhaps, severe storms Thursday. More on this factor in the days to come.
Flooding is not expected with our Thursday system.
Temperature-wise expect lows through Tuesday morning to be in the milder 50s, with highs Tuesday afternoon getting closer to the mid 70s.
After the weather system and cold front Thursday it should become breezy and quite chilly Friday into the weekend.
Lows will be dipping back into the 30s this weekend while Saturday afternoon looks fair and chilly with highs in the low-mid 50s.
After another chilly start Sunday morning, Acadiana should see a nice warm up Sunday afternoon with highs getting back to near 70.
At least it should be dry for most if not all the Mardi Events this weekend (and perhaps through Mardi Gras).
The pattern warms further Monday into Mardi Gras Day with highs pushing the upper 70s both day...and we may even see 80°+ degree temperatures for next Tuesday afternoon!
A few showers may follow Wednesday into Thursday...and we can't rule out an isolated shower on Mardi Gras (20%), but most of us should stay dry and battling another windy day for our Fat Tuesday.
Rain chances should return for mid-late next week.
See the KATC 10 Day Forecast for the latest.
------------------------------------------------------------
Stay in touch with us anytime, anywhere.
To reach the newsroom or report a typo/correction, click HERE.
Sign up for newsletters emailed to your inbox. Select from these options: Breaking News, Evening News Headlines, Latest COVID-19 Headlines, Morning News Headlines, Special Offers