Tuesday 1PM Update: There is now a 70% chance of tropical development in the southern Gulf in the next 5 days according to the National Hurricane Center.
Latest satellite images show the tropical wave is getting better organized and the upper level winds are not as strong creating more favorable conditions for the system in the coming days.
Hurricane Hunters could fly into the storm Wednesday to get more information on this wave as the hurricane center thinks it could become a tropical depression as early as Thursday night.
Good news for Acadiana is this system stills looks to stay to our south and head for the Texas coast as flow around Florence could help prevent the system from heading for us.
The Atlantic Basin remains very active through mid-September with three named storms of different strength. While Florence, for good reason, will garner the majority of the headlines those in the western Gulf should pay attention to a disturbed area in the Caribbean.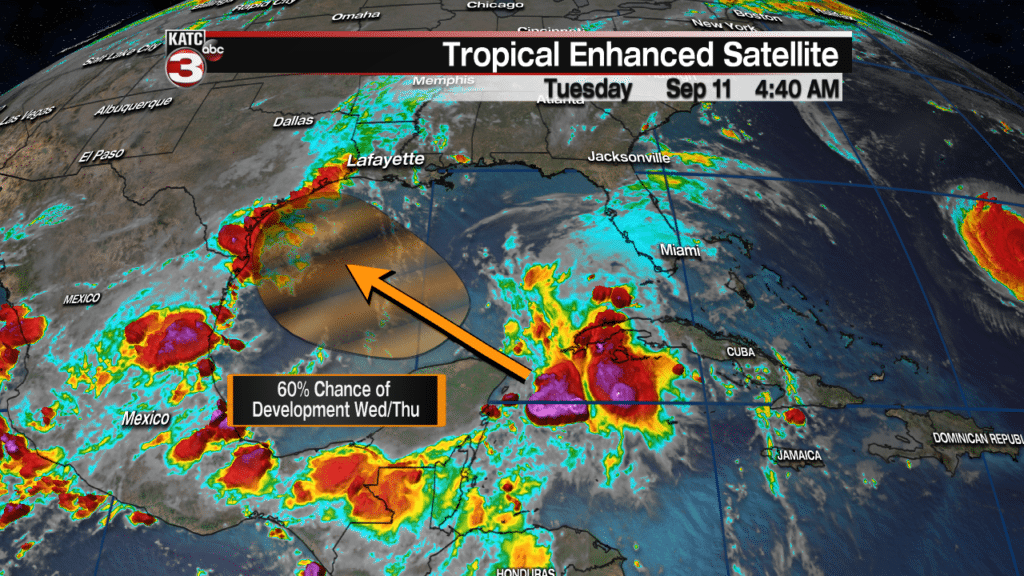 It's not going to happen in the immediate future but in the next five days, there's a 60% chance for further development per the National Hurricane Center. The Gulf of Mexico may prove to be a little more friendly for tropical development, and there does seem to be some model support for this development.
The EURO model did a good job with Gordon a week ago which would help give a little confidence to the forecast, however, it should be noted that the GFS is not on board with this solution. The GFS instead keeps an open wave in the western Gulf of Mexico, but still is hinting at a wet weekend for coastal Texas this weekend.
The GFS has struggled lately in its accuracy and didn't do too well with Gordon so will lean a little heavier on the EURO solution at this time. If should be noted though that the EURO output does call for drier conditions over the weekend for Acadiana with minimal impact. The biggest issue to watch for this weekend will be tides running a half foot to a foot higher then normal which could end is some minor coastal flooding at high tide. This will play out over several days so stay tuned to KATC for the latest information and be sure to keep up with the forecast trends.