This forecast was updated on Tuesday, 4:00 pm
Tropical Storm Gordon remains just that a tropical storm as of the Tuesday 4:00 pm advisory issued by the National Hurricane Center. Winds have held sustained around the 70 mph but there have been a few gusts reaching up to 85 mph that have been recorded. Slight strengthening is still anticipated to occur shortly before landfall to a Category 1 storm by the time it reaches the Mississippi Coast. As we've noted before, however, this is a fairly small storm which means it could see quick fluctuations in intensity.
Landfall is still expected to be around the Pascagoula area in Mississippi sometime late Tuesday night or early Wednesday morning. Since the majority of the weather has been loaded on the east side of the storm it puts Acadiana in a fairly favorable position in regards to this storm. This is especially true since the wind field from Gordon will be so compact that it's really on coastal Mississippi and Alabama that will deal with the stronger winds.
Tropical storm forced winds will be felt roughly from the Louisiana/Mississippi border to about the Florida/Alabama border with hurricane forced wind really only concentrated around the center of circulation. At this rate New Orleans may get a fresh breeze but the rest of us won't feel much if anything from Gordon. Regardless Tropical Storm Warnings are up for east Louisiana and rightfully so as parts of the north shore may get tropical storm winds as Gordon drifts west Tuesday morning.
So far the gustiest winds have stayed offshore but you'll start getting the first round of strong winds push into the Pensacola/Mobile area through mid afternoon and then eventually into Mississippi. Heavy rains have already been moving across the Florida Panhandle. Like the wind field the heaviest rain will also be fairly concentrated and primarily be a threat for central Mississippi and into Arkansas.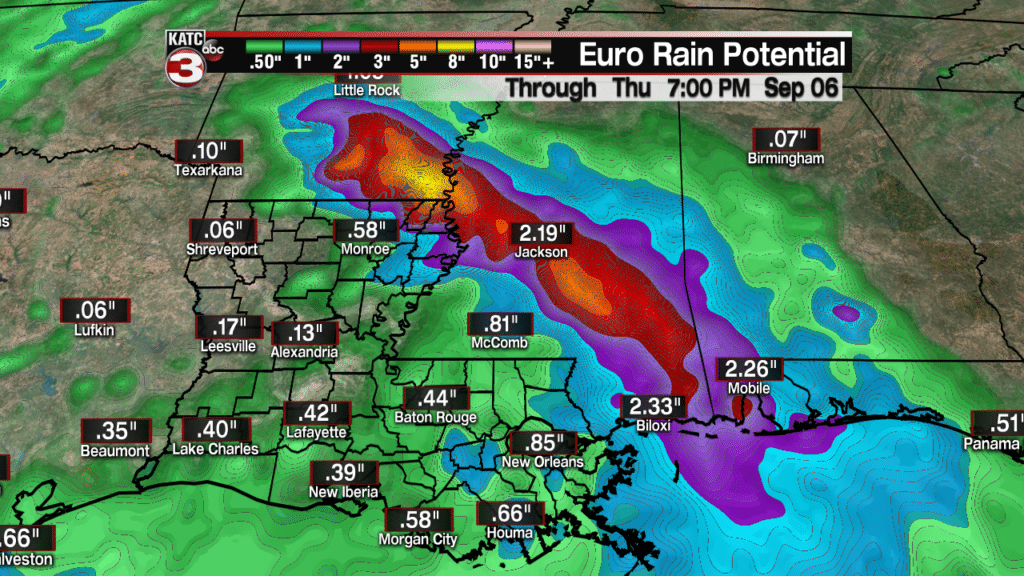 Forecasts continue to look like it'll produce around 4-6″ of rain, while there are some places that could catch 8-12″ worth of rain. Flash flooding is always a concern with these storms and Gordon won't be an exception especially through central Mississippi and south east Arkansas. Notice, however, that most rain totals for Louisiana aren't all that impressive.
As a quick aside anyone who was planning to travel the Gulf Coast Tuesday or Wednesday should push back those plans. It seems obvious but questions about this trip or that trip are still coming in to the Weather Lab. Gordon also shouldn't be a surprise as it is that time of year when the tropics really heat up, and a quick glance east will reveal Hurricane Florence and a likely soon to form tropical system behind it. Florence will not impact the Gulf of Mexico and it's too soon to talk any more about the other one.