After a 5-10″ rainfall late last week into the weekend, Acadiana will have more time to dry out before the next significant chance of storms returns late this weekend.
Look for a very pleasant start to our Tuesday with temperatures ranging in the upper 50s to lower 60s…some 5-10 degrees below normal!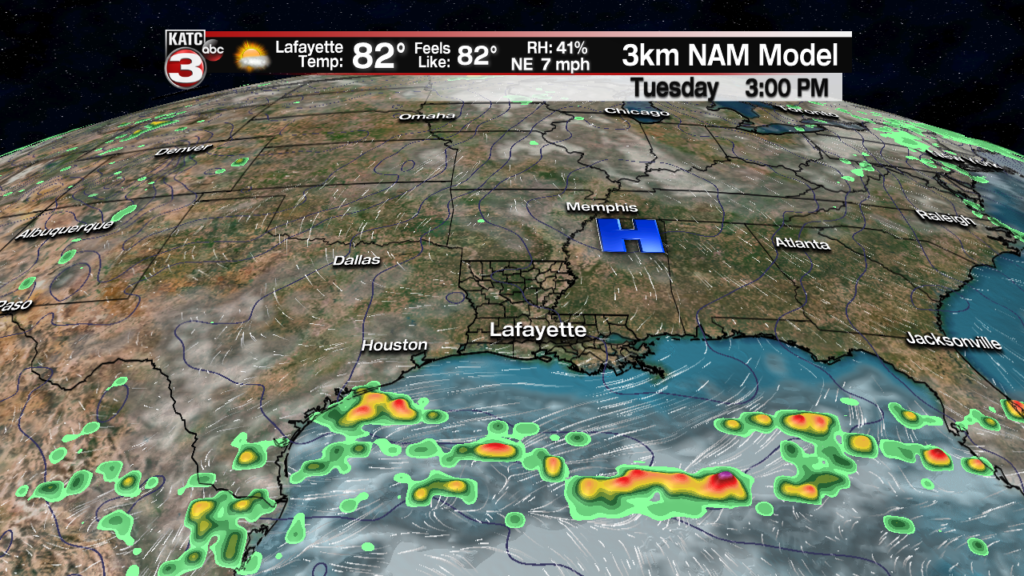 Mostly sunny skies courtesy of high pressure is anticipated Tuesday with highs topping out in the mid-80s.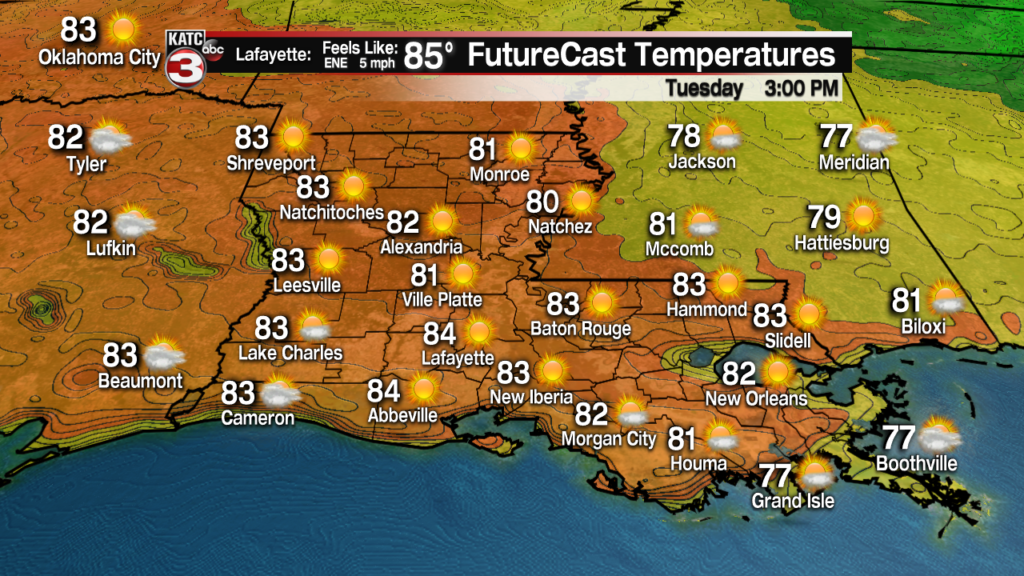 A weakening upper disturbance will pass through the area Wednesday but shouldn't bring anything more than a few more mid-level clouds, but the day should be a mostly sunny and warm one.
High pressure will begin to slide of the east nearer to the weekend allowing for a southeasterly, then a southerly flow of weather moving into the weekend.
Mostly sunny to partly cloudy skies are anticipated Thursday and Friday with highs in the mid-upper 80s.
Humidity will slowly creep back into the area, starting mainly Friday.
This weekend will be breezy, warm and quite humid ahead of a frontal boundary that will likely slow as it approaches the area this weekend.
This front will likely ignite severe storms (and perhaps spawn a tornado outbreak) from Texas to the High Plains this weekend, with the tail end of the front reaching Acadiana Sunday.
Consequently we'll go for a pretty good chance of storms Sunday, but it remains to be seen if there will be any local severe weather threat, as that may miss Acadiana to the north…stay tuned.
Lingering showers and a few storms may remain for Monday followed by a return of sunny skies Tuesday and Wednesday.
And with an upper level ridge building into the area mid-next week, daily temperatures will be nearing 90 toward the end of the 10 Day Forecast and perhaps beyond…summer will be knocking on the door!