A well advertised round of severe weather is headed to Acadiana with arrival expected early Sunday evening between 4:00 – 6:00 p.m.
Here's Daniel's Facebook live:
In anticipation of this round of severe weather a Severe Thunderstorm WATCH has been issued for all of Acadiana until 11:00 p.m.
The Storm Prediction Center upgraded Acadiana's severe risk to enhanced Sunday afternoon, which is a rating of 3 out of 5.
Storms are going to roll in from the south west and the system has already been producing severe weather as it's made it's way through Texas.
A few leader storms have been moving in to west Acadiana out ahead of the system and those storms will go from isolated to more blanketing as the day goes on.
This is an all modes weather event but wanted to break down the various risks one by one to give you an idea of what's on the way.
The predominant threat with this system is going to be damaging straight line winds with winds gusts possible of up to 60 mph.
These will swing through with the main line of storms around dinner time on Sunday and continue through the majority of the evening.
The risk will be greater for straight line winds but that doesn't mean we won't see any rotation and we do have a minor threat for small spin up tornadoes.
While the risk for tornadoes will sit at about 2%, we will still have to watch closely for rotation with in the line of storms.
One of the big problems with systems like this is that tornadoes are often small, isolated and hard to spot on the radar.
This requires a little more vigilance in monitoring the weather so be prepared to seek a safe place in your house quickly if the weather starts to change, and don't necessarily wait for warning to be issued.
Remember that there will be a lot of rain with this system making any tornadoes very hard to spot with your eyes as they'll be rain wrapped.
Adding to everything else there will be an elevated hail threat with strong updrafts associated with this line of storms.
Hail will be medium to large sized so close to the size we had last week with the last round of severe weather.
When the hail isn't present heavy rain will be with flash flooding a concern for all of Acadiana, especially the areas that got all the rain last Thursday.
A Flash Flood Watch will be in effect for all of Acadiana until Sunday evening so make sure to pay attention to low lying roadways and avoid ditches, bayous, and rivers.
On average Acadiana will likely pick up 1-2″ of rain with hot spots pushing 4-5″ through some areas which will arrive quickly.
Travel should be avoided once the storms get rolling if possible as roads will struggle to drain as the rain comes down.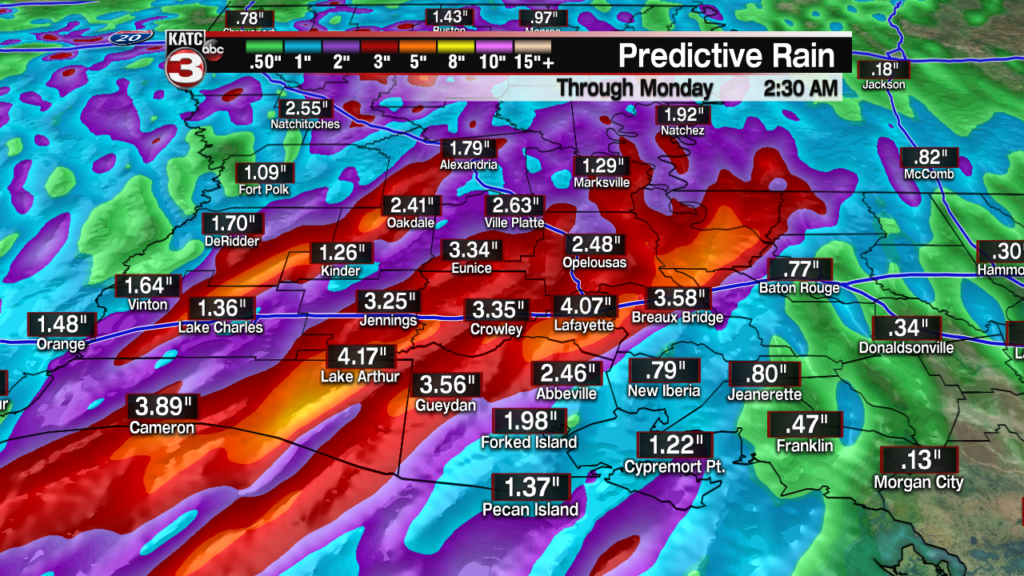 Models are now hinting at another round of storms arriving early Monday morning, before dawn, so we'll need to be weather aware for the night.
The good news is though that the rest of the week is looking good, we've just got to get through this system first.