As the weekend kicks into high gear and everyone starts heading out to enjoy all the festivities it'll be important to remember to be weather aware.
As was the case Friday morning we are going to have another round of fog to deal with early Saturday morning, but as winds pick up it should burn up a little faster.
Still if you're out running errands early Saturday be aware that visibility could drop below a mile as the sun starts to come out.
Once the fog burns up the clouds will continue into the remainder of the day, with the occasional breaks giving way to spotty sunshine.
Despite the clouds Acadiana should stay mostly dry with only a few isolated showers possible in the afternoon, especially north Acadiana.
If you are traveling to the northern half of the state be aware that the weather will be much worse to our west and north.
A boundary going from Texas into north Louisiana will be responsible for a round of severe weather with the potential of super cell storms.
The models tend to agree with the outlook and storms will have a hard time dropping south so should stay out of the area.
Sunday is going to be a different story with the storms dropping in from the west Sunday afternoon/evening.
While we've known of the possibility of some severe weather exact location and timing still remains elusive, but the outlook should be a little more defined on Saturday.
All modes of severe weather should be monitored for with storms capable of producing hail, damaging wind, flooding rains, and isolated tornadoes.
Timing of the event is trending to a little later on in the day with the heaviest showers moving in during dinner time Sunday.
A few isolated storms could be possible if there's small breaks in the clouds allowing the sunshine to start churning up the atmosphere.
Early storms could have an impact on the strength of evening activity, which is why there's still a little uncertainty with regards to the finer details.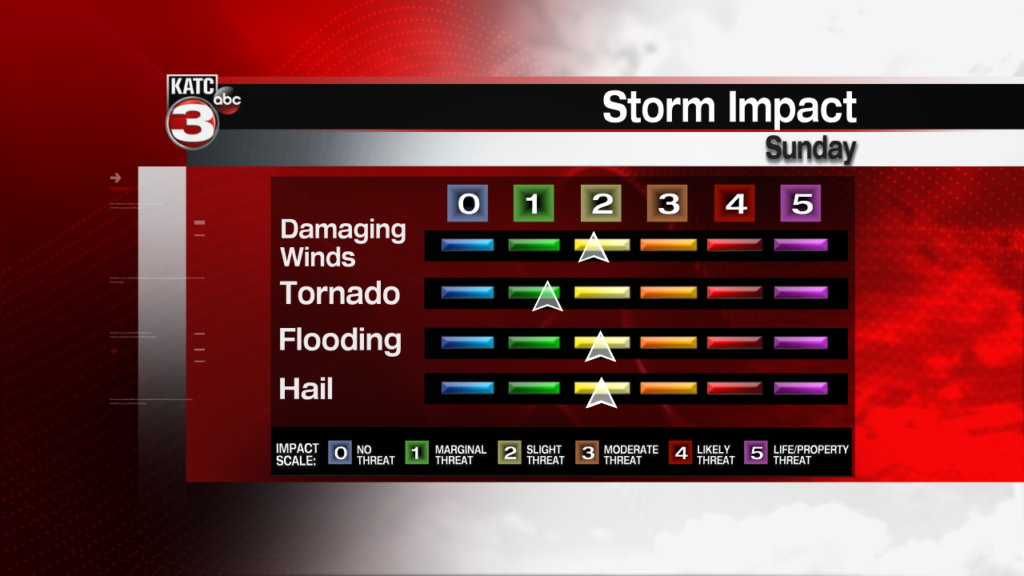 Many areas are still trying to dry out from Thursday's round of showers and it looks like if nothing else this next event is going to be a rain maker.
We may end up with several inches of additional rain, on top of what we've already gotten, with some of it falling tremendously fast.
Minor flooding will need to be looked out for especially in the problematic areas and along some of Acadiana's low lying road ways.
As is typical this time of year there is a lot going on across Acadiana so as everyone goes out and enjoys these festivities please make sure you're paying attention to the weather.