Acadiana can expect a warm and increasingly humid weekend with the chance of scattered showers Saturday, and a better chance of showers and thunderstorms Sunday.
In the near term, expect milder temperatures and higher humidity into tonight, but overall it should be a nice evening.
Incidentally, the International Space Station (ISS) will be visible moving overhead across Acadiana between 9:14 and 9:20 pm. For future ISS sightings, anywhere in the U.S. click here.
Temperatures by Saturday morning will likely be much closer to the lower 70s across most of the area.
Saturday will be breezy, warm and humid with a few showers, possibly a thunderstorm popping up and moving northward anytime from the mid-late morning through the mid-afternoon hours. Rain chances will be in the 30-40% range.
Latest FutureCast Wind Forecasts:
Temperatures Saturday will be pushing the upper 80s once again, and with increasing dew points and humidity courtesy of breezy southerly winds, the heat index may push close to the mid-90s in spots!
While an active storm pattern and the threat of severe weather will develop across Texas and to the northeast Saturday, any storms that work their way into Louisiana should be weakening, but there will likely be some sort of severe weather threat for the state, especially from Western Louisiana northward into early Sunday.
Locally some storms may slip into the northwestern sections of Acadiana perhaps into Saturday evening, but more likely overnight, with a marginal to slight threat of a few storms that could produce damaging winds….this would be mostly likely from Western into Central Louisiana on northward.
A better chance of storms are expected for Acadiana Sunday morning through the midday hours as an upper level disturbances pushes through.
The disturbance should be weakening as it moves through our area and the severe weather dynamics should be meager at best.
The Storm Prediction Center (SPC) has very little of the state hatched for only a marginal risk of severe storms Sunday…the area of green below, I would think, may be extended farther south and west to at least cover more portions of Northern and Central Louisiana…we'll see.
Rain chances Sunday locally should be in the 70-80% range, but the entire day does not look like a washout, with prime-time for activity likely from the morning through the early to at latest mid-afternoon hours.
Rain totals locally should not be an issue, unless there is a drastic change and storms become much more intense than currently anticipated.
Rainfall totals should be between 1/4″-1/2″ for most, while up to an inch or two will be possible in isolated spots mainly to our north, but no flooding issues are anticipated.
Farther north in addition to an active daily severe weather threat into next week for the nation's mid-section, very heavy rainfall of 5-10″ of rain can be expected over the next week to 10 days from Oklahoma northward in Kansas, Nebraska, South Dakota, Iowa and possibly into portions of Minnesota and Wisconsin.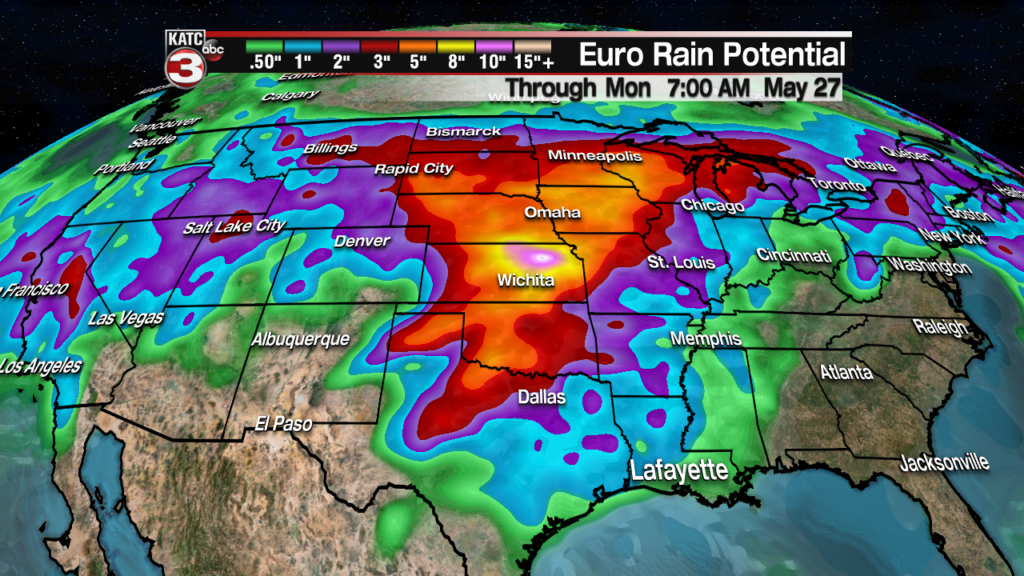 The latest Euro Model Friday afternoon highlights the most serious flood threat into portions of Kansas that bulls-eye could easily, and will mostly likely shift elsewhere.
Moving beyond the weekend for Acadiana it will continue to stay warm and very humid early next week with a very slight risk of an afternoon shower at 10-20% Monday, and perhaps near 10% Tuesday.
Daytime highs will be in the upper 80s early next week, but the heat index will likely be pushing the mid-upper 90s as dew points push the mid-70s.
Later in the week, building high pressure from the east will bring our daytime highs closer to the lower 90s, but the humidity, and consequently overnight lows, may be just a bit more pleasant and a little lower.
See the 10 Day Forecast for the latest.