Acadiana will finish off the week Friday with another mostly cloudy and warm day accompanied by a slight chance of a shower or storm, but the prospects of storms remains quite likely Saturday.
After a brief round of midday showers & storms across the area Thursday, we saw lower dew points and humidity that immediately followed, but higher temperatures returned with full sunshine during the afternoon.
In fact, at 3:25 pm, Lafayette registered its first 90 degree reading for 2019!
Moving into Thursday night/Friday morning, expect slightly cooler and more comfortable conditions thanks to lower dew points in the wake of the earlier storms.
Lows by morning in most areas should be in the upper 60s.
Expect mostly cloudy skies accompanied by a few intervals of sun Friday.
Rain chances should stay low, near 20% or less but with strong storms currently cranking in Texas this Thursday afternoon, we can't rule out an outflow boundary (or atmospheric perturbation) sparking a brief round of a few showers or storms at any time overnight through Friday afternoon.
Rain chances should stay in the 10-20% range through Friday afternoon.
The primary storm risk and the threat of severe weather will be mainly across Texas Friday.
The main storm "attraction" for Acadiana will arrive late Friday night into Saturday morning as rain chances will ramp upward through mid-morning Saturday.
An upper level disturbance combined with a very weak frontal boundary should yield an 80% chance of rain and storms across the entire area Saturday.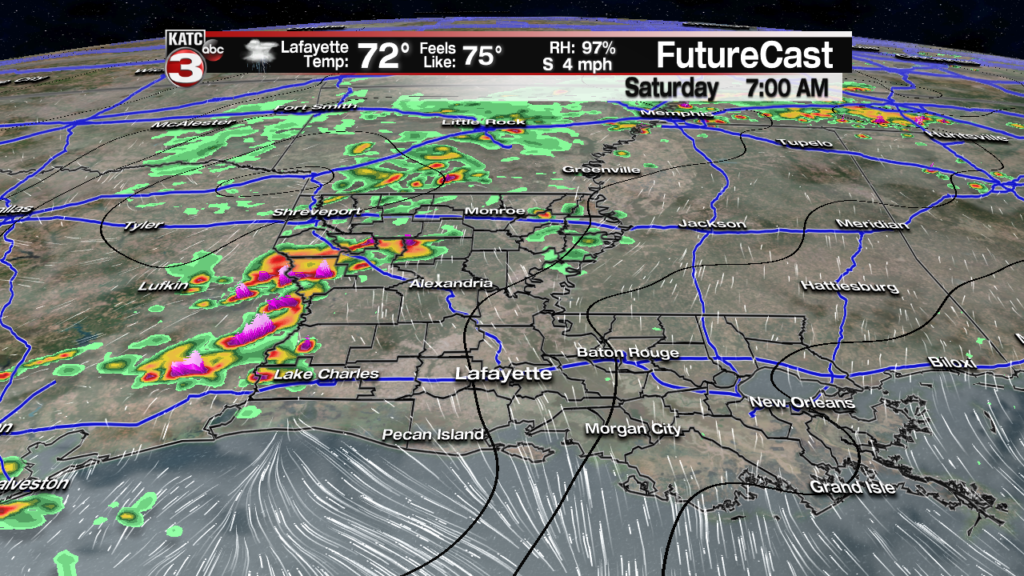 While currently Acadiana is not hatched in for any risk of severe storms, it would not be surprising to see the Storm Prediction Center upgrade the region to a "marginal risk" of a few isolated severe storms Saturday which could be capable of producing locally gusty winds, brief intense downpours and frequent cloud to ground lightning.
Showers and storms should be entering Southwest and Western Louisiana around daybreak and then will be migrating eastward throughout the day.
Prime-time for storms has been fairly consistent per the models, with best rain chances likely from the morning into the early afternoon.
The weather should quiet down by early Saturday evening.
As for rainfall, the larger scale Euro Model is calling generally for 1/2 to 1 inch of rainfall Saturday with a few hot spots seeing up to 2″.
Meanwhile the latest RPM Futurecast Model appears to be in fairly good agreement with up to 1-2″ possible in some spots across Acadiana…of course the numbers for each location will likely change, but the bottom line is that widespread flooding is not expected at this time.
Follow the latest Furecast Models here:
And like the last several storms system to roll through the area, some folks may barely see enough rain to wet the ground, but an isolated 3″ rainfall accompanied by brief, localized street flooding would not be surprising in a few isolated spots.
Clouds should clear Sunday morning with a very nice, mostly sunny and warm day expected across the area.
Temperatures Sunday could push well into the upper 80s (in spite of computer/numerical guidance which has been roughly 5-7 degrees too cool over the last few weeks).
Moving into next week, Monday for now, looks dry but with clouds (and humidity) expected to to return.
The rest of next week looks rather unsettled with weak disturbances aloft igniting the daily chance of scattered showers and storms…and this pattern may not change much into the following weekend.
Consult the KATC 10 Day Forecast for the latest.