The weather pattern for Acadiana will continue in its "summer preview" mode over the next few days with a subtle increase in the chance of an isolated shower or storm through Friday.
The best chance of storms should arrive Saturday.
In the near term, expect a continuation of our breezy, warm and humid pattern through Thursday…although the afternoon breeziness will be not as pronounced Thursday and Friday.
High temperatures will continue in the mid-upper 80s through Friday while night-time lows hover in the lower 70s.
While storms continue to crank to our north and west in Texas to Arkansas, most activity should stay away from Acadiana through Friday.
But with that being said, those storms may create a few "outflow boundaries" or atmospheric impulses that may travel toward Acadiana and could spark and isolated late afternoon storm Thursday, especially western section of Acadiana, and toward Western and Southwestern Louisiana, where rain chances might be a little higher.
For now, we're keeping the chance of a shower or storm Thursday in the 10% range for most of Acadiana, and near 10-20% Friday.
A stronger upper level disturbance accompanying a weak frontal boundary should push into the Acadiana area late Friday night into Saturday and should bring with it a fairly decent round of showers and storms.
While there appears to be a minimal to non-existent severe weather and flood threats, there could still be some locally heavy storms Saturday.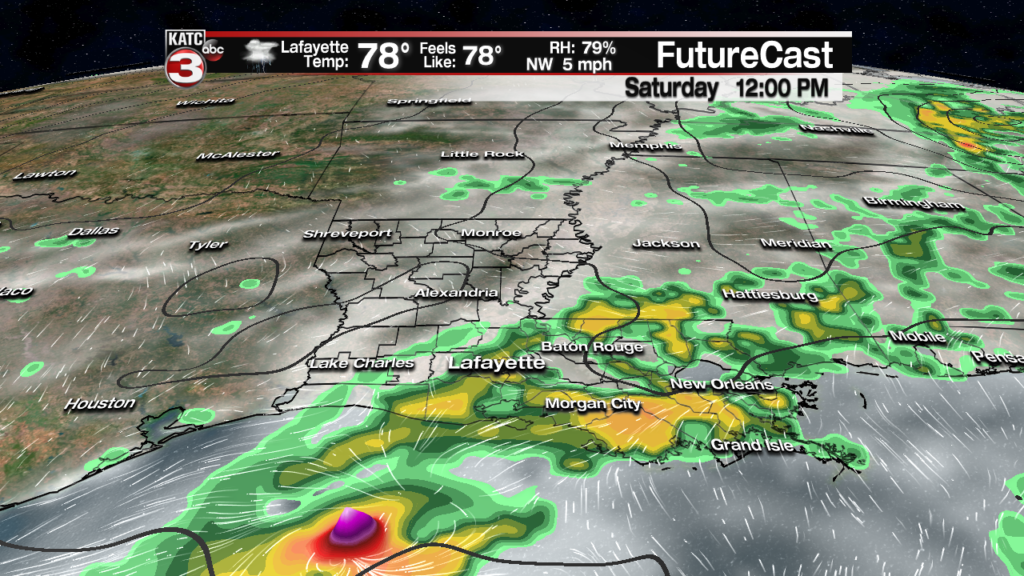 Heaviest rains over the next several days will remain from Texas into Oklahoma and Arkansas (and likely all the way to the Midwest) where up to 3-5 inches of rain may fall through the weekend.
Locally while models are not showing much in the way of rainfall Saturday, portions of Acadiana could see up to 1-2″ of rain in some locally heavy downpours.
Prime-time for thunderstorm activity Saturday based on most of today's models appears to be from the morning through the mid-afternoon hours, with drier conditions anticipated into Saturday evening.
And with any luck, Sunday looks mostly sunny and warm with lower humidity…but daytime highs may still push into the upper 80s.
Night time/morning lows this weekend through Monday morning could drop into the pleasant mid-60s, but the relief from low temperatures in the lower 70s will be short-lived as much of next week looks to be warm and humid, with the daily chance of scattered showers and a few storms mid-late week, and into the following weekend.
See the 10 Day Forecast for the latest.
Meanwhile, while it's certainly early to be talking about the tropics, the National Hurricane Center (NHC) is keeping an eye on a disturbance in the Bahamas that has a low potential (20% chance) of development in the next 5 days.
Development or not, the system could bring some locally heavy rains to portions of the Bahamas and Florida Peninsula into the weekend.
If development were to occur, it would be most likely off of the Southeast and Mid-Atlantic Coasts with an eventual movement out to sea.
While it seems early to be talking about the tropics (the official start to the Atlantic season is June 1st), the last 4 years has seen a weak system form in May…just a subtle reminder that now we are less than a month away from the official start to hurricane season.