Acadiana's weather pattern has slipped into the pre-summer doldrums with a mixture of clouds & sun, breezy, warm and humid conditions anticipated for the entire week.
Rain chances however, will gradually rise by the end of the week, and most especially, into the weekend.
In the near term, temperatures will likely be closer to the more uncomfortable 70 degree mark for Tuesday morning.
Tuesday's weather will be similar to Monday's, with partly to mostly cloudy skies, accompanied by intervals of afternoon sun.
Temperatures will again top out near 86 degrees in most areas, except a little cooler near the coast.
Breezy south to southeast winds can be expected for the afternoon once again.
Latest Wind Forecast:
Expect little change in the overall pattern Wednesday, except for a few more clouds and rain chances up to the 10% range.
By Thursday, the upper ridge of high pressure that has been so dominant in the area over the last several days will slide off farther to the east and allow for a little more in the way of upper atmospheric disturbances that may in turn spark a few more afternoon showers.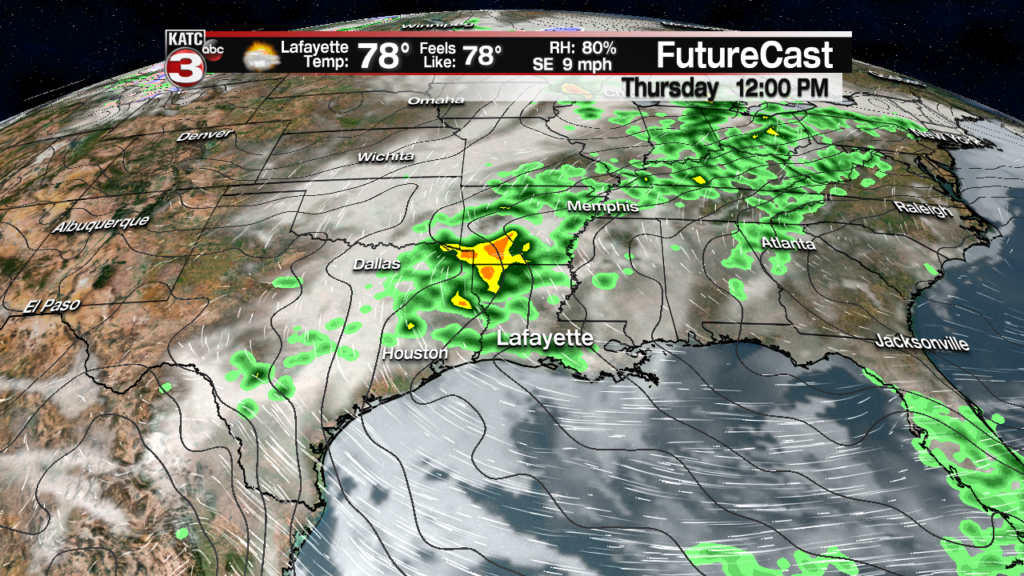 Rain chances Thursday should be in the 20% range.
The prospects of scattered showers and a few thunderstorms should increase Friday, more likely into the weekend.
Rain chances will reach the 50% range Saturday and should stay in the 40-50% range into Sunday.
The weekend shouldn't be a washout, but the pattern will be certainly more supportive of scattered showers and or storms at any time, primarily during the daytime hours.
Rainfall over the next week locally is not expected to be overly heavy, with the biggest rainfall and strongest storms likely from the Southern Plains to the Mid-Mississippi River Valley, where severe storms and rains of 3-5 inches or more will be likely through much of this week.
Look for warm and quite humid conditions along with some afternoon rain chances early next week.
Temperatures next week may begin to approach the upper 80s.
Consult the latest 10 Day Forecast for the latest.
Interestingly enough, there are no significant cool fronts on the horizon for Acadiana until at least May 10, give or take a day. Indeed, summer is knocking on the door and the fronts are much fewer and farther between.