After a rough day with numerous strong to occasionally severe thunderstorms raked through Acadiana, the weather pattern will gradually become much more favorable into the weekend.
Storms were moving out of the Acadiana area and with them the threat of severe weather and flooding.
Latest Radar:
Surprisingly enough. the main issues most of the day were for heavy rainfall and localized flooding with rain totals in some spots as high as 3-5″, causing some brief street flooding and some water threatening homes and businesses, especially into Acadia and Vermilion Parishes.
Heather Drive in Opelousas / Ashley FrancheboisThere were a number reports of some sporadic wind damage, but as of late Thursday afternoon, there were no confirmed reports of any tornadoes in Acadiana.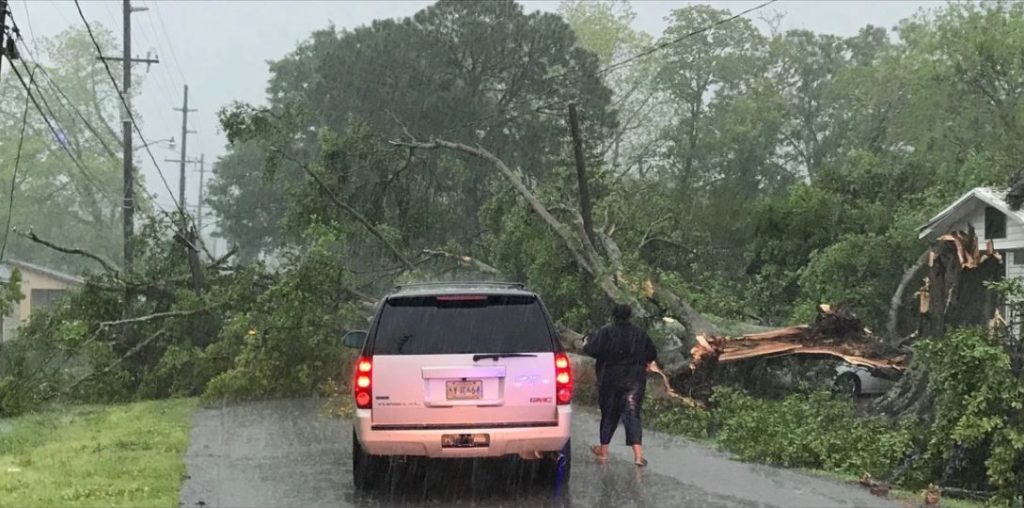 Fortunately the forecast ahead is looking much better with breezy and cooler conditions moving overnight through Friday.
Temperatures by morning will drop into the low-mid 50s, and with breezy WNW winds, it will feel even cooler.
Friday we'll see mixture of clouds and sun, with breezy northwest winds near 15-22 mph and occasional higher gusts continuing.
And with the backside of the upper low pressure system that delivered the storms to the area Thursday moving through the region Friday, a few scattered showers and perhaps, a brief thundershower, may pass through the Acadiana area during the afternoon.
Any cells that develop Friday will be moving quickly to the southeast.
It will be a "fresh" day Friday with highs topping out in the seasonably cool upper 60s to lower 70s…some 10 degrees below normal.
It gets even cooler Friday night as skies will completely clear with temperatures dropping into the mid-upper 40s by Saturday morning…enjoy it as we won't have many more, if any of these days ahead for likely a six month period!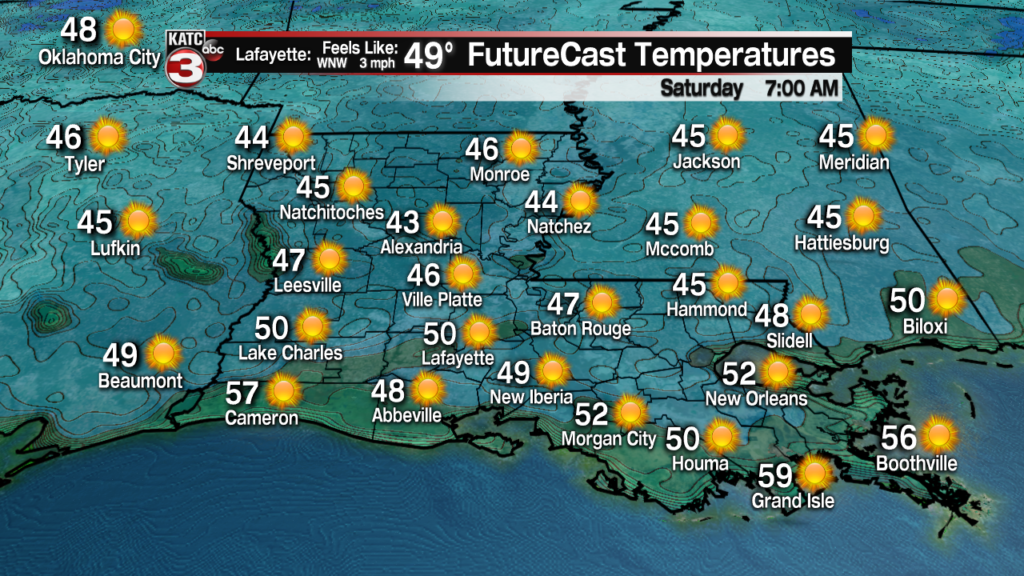 Saturday and Easter Sunday will be filled with sunny skies along with seasonable temperatures and low humidity.
High temperatures will reach the mid-70s Saturday and upper 70s Sunday.
Clouds will generally be on the increase, along with temperatures into early next week, with an unsettled weather pattern and perhaps a daily chance of some showers by late Wednesday and continuing into the following weekend.
Festival International does not look like a washout, and the current 10 Day Forecast will likely change from its current state today.