After a cloudy Saturday it is back to the sunshine on Sunday but it will be much cooler as temperatures will struggle to reach the upper 60s for highs.
Also, the winds will remain breezy on Sunday but now they will be whipping out of the WNW at 15-25 mph with gusts up to 30 mph.
Under clears skies Monday morning lows will be on the chilly side in the mid to upper 40s.
After the cool start Monday looks to be a beautiful spring day with bright sunny skies and temperatures in the mid 70s.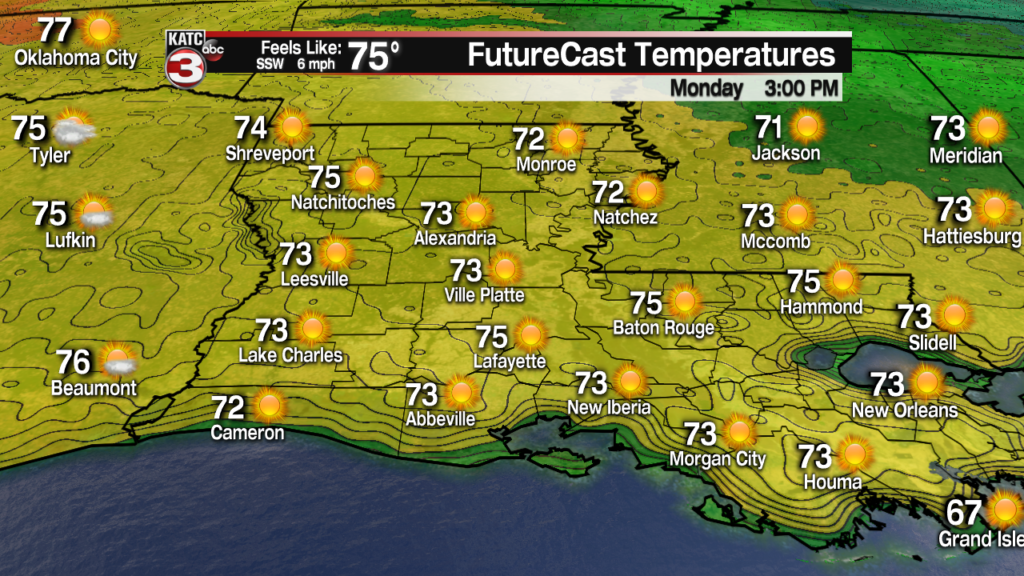 On Tuesday clouds will start to return across Acadiana but it should be another great day with temperatures in the upper 70s to low 80s.
Clouds thicken Wednesday but we could still have a few peeks of sunshine during the afternoon pushing highs into the lower 80s.
As our next system inches closer we could get a few isolated showers to fire up Wednesday afternoon but rain chances only look to be about 20%.
The next weather maker will arrive Thursday morning/afternoon producing the possibility of another round of strong to severe storms.
The Storm Prediction Center already has Acadiana hatched in a slight risk for severe weather with damaging winds and hail as the main threats but a spin-up tornado will also be possible.
The best news is the system should push out of the region late Thursday night setting up a beautiful Good Friday and Easter weekend with lots of sunshine and temperatures in the mid to upper 70s all 3 days.