A strong storm system will likely produce strong to severe storms across Louisiana and Acadiana Saturday afternoon into Saturday evening, with the greatest risk of severe storms from the central to the northern part of the state.
The Storm Prediction Center (SPC) has most of Acadiana hatched in for a slight risk of severe storms (a level 2 out of 5), but the northern parishes of the area are colored in for an enhanced risk (a level 3 out of 5).
Farther north, a moderate risk of severe storms is forecast by the SPC where several strong tornadoes, EF2 with 111 mph winds or greater may be possible.
Locally in Acadiana, prime-time for storms will likely be from roughly 6pm (give or take an hour or two) through about midnight.Prime time for Lafayette looks to be between 7 and 9 pm…again give or take an hour tor two.
At this point I fully expect a Tornado Watch will be in effect for most of Acadiana and should be issued by mid-afternoon (or sooner to the west) for the expected storms.
Storms containing damaging winds in excess of 60 mph and isolated tornadoes will be possible in Acadiana, with the latest short range models showing the possibility of several super cell thunderstorms capable of rotation into the evening hours across the area.
Rainfall is not expected to be an issue due to the progressive nature of the storms, with most areas receiving generally an inch or less, but there could be a few spots that catch 1-2″ with isolated amounts up to 3″, especially from Central Louisiana northward.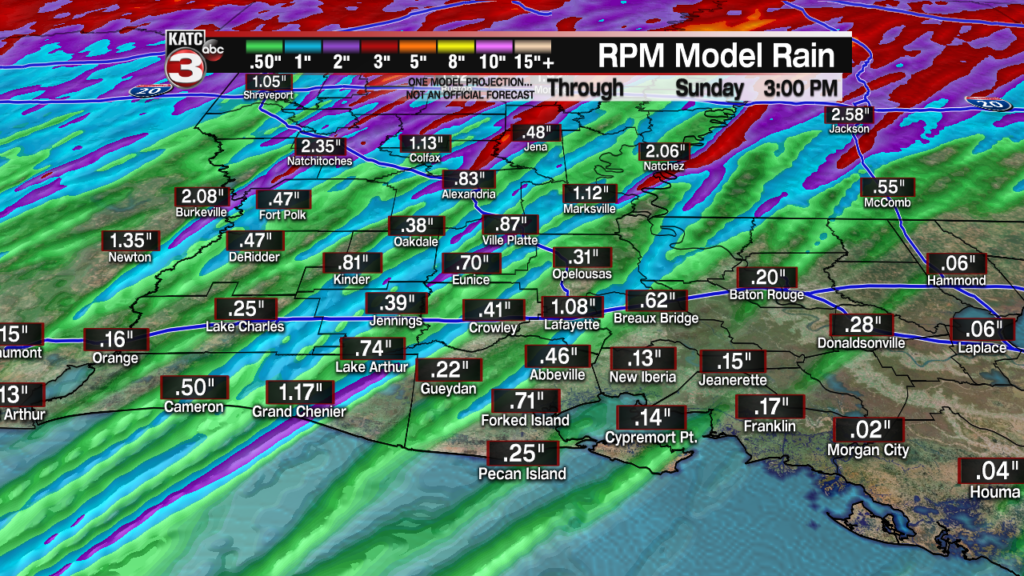 So the main threats for our area will be for damaging winds and perhaps a few isolated tornado spin-ups.
Stay with KATC, katc social media and make sure your KATC WX app is turned on for location services and settings are set to alert you for severe warnings…KATC has learned that the NOAA Weather Radio is not operating properly in Lafayette.
Storms will exit the region by midnight as a cold front sweeps through the area.
Partly to mostly cloudy, breezy and cooler conditions will follow Sunday with highs in the mid-upper 60s cooling into the mid-upper 40s as skies clear Sunday night into Monday morning.
Expect a couple of nice days early next week before our next weather-maker arrives late Wednesday into Wednesday night and perhaps into early Thursday when storms will return to the area, along with another severe weather threat.
At this point the forecast looks good for Good Friday through Easter Sunday, but consult the latest KATC 10 Day Forecast for the latest.
Follow the latest High Resolution Rapid Refresh (HRRR/Predictive Radar) Model here:
Latest Doppler Radar: