While Acadiana can expect a few scattered showers and perhaps a thunderstorm overnight through Friday evening, a more substantial severe weather threat will likely develop for the area into Saturday afternoon and evening.
In the near term, a fizzling frontal boundary may spark of a few showers, perhaps a thunderstorm overnight and much the same could be said for Friday.
Latest doppler radar:
While rain chances should be in the 40% range or less through early Friday evening any storms that get going, especially into the afternoon and evening could be potentially strong, but any real risk of severe storms will likely manifest farther to the north, and in the northern part of the state toward daybreak Saturday.
Latest Predictive Radar:
Moving into Saturday a potent upper level low pressure system racing out of the Southern Rockies will induce surface low pressure development in Eastern Texas Saturday afternoon.
This will make for a windy and warm start to Acadiana's Saturday with showers and storms likely developing rapidly during the mid-late afternoon hours.
The prime time for strong storms for Acadiana will likely be from mid-afternoon through roughly midnight.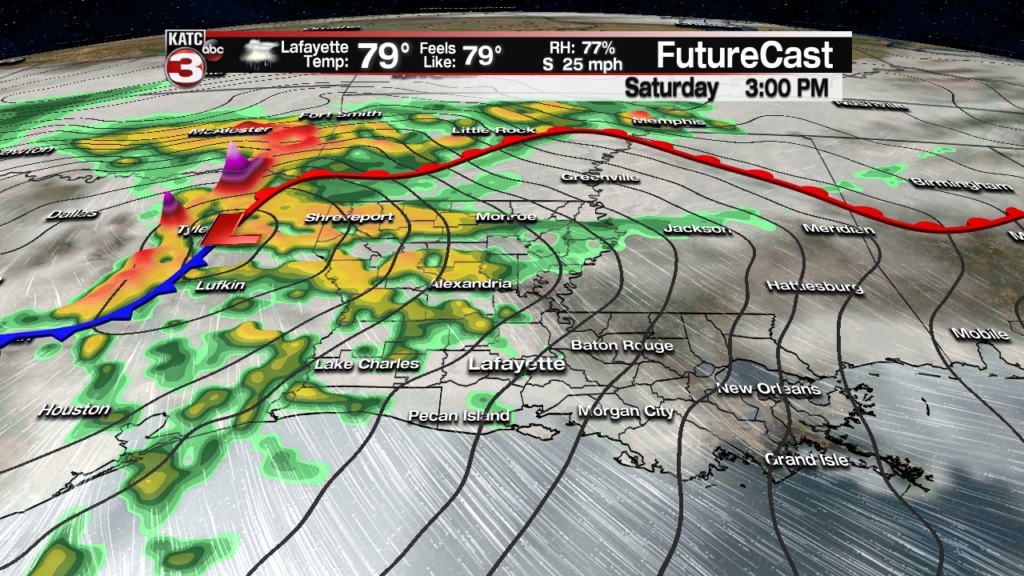 And there will likely be a substantial risk of severe storms for Acadiana, particularly from the mid-afternoon into the evening hours.
Currently, the Storm Prediction Center (SPC) has most of Acadiana hatched in for a "slight" risk of severe storms (a level 2 out of 5), but northern portions of Acadiana as of Thursday afternoon were hatched in for an "enhanced" risk of severe storms (enhanced is level 3 out of 5 and roughly translates to a 30% chance of a severe storm passing within 25 miles of any location within the enhanced area).
This will be a full on, all-mode severe weather event, with the possibility of storms producing large hail, greater than quarter size, damaging winds in excess of 70-80 mph and the threat of several tornadoes.
And per the SPC, there could be a few "significant tornadoes", which generally are longer tracked EF2+ strong tornadoes with 111 mph winds or more, which may develop along and north of the I-10 corridor into norther portions of Acadiana, and then strengthen further into the Central and Northern part of the state and Arkansas.
Activity ultimately migrate eastward into Mississippi, and eventually Alabama by early Sunday morning.
It would not be surprising to this forecaster if the enhanced risk area shifts a little farther to the south and expands to the northeast, and within the enhanced area, a small "moderate" risk (level 4 out of 5) may show up in later SPC assessments…if that were to occur, it would be most likely be for the central and northern part of the state and into portions of Mississippi.
Latest FutureCast:
While locally very heavy rainfall of a couple of inches will be likely for portions of the Acadiana area, the progressive nature of the storm system should keep any significant flood threat at bay.
However, with that being said, if storms get cranking earlier than forecast by the models, there could be some "training" of storms that could lead to more than the current 1-2″ most of the models are forecasting with isolated amounts possibly pushing up to 3-4″ locally, but this will also most likely to occur in the northern part of the state.
The storm threat for Acadiana should diminish quickly after midnight Saturday night with a sun and cloud mix, breezy and cooler conditions Sunday, and leading to a clear and fresh Monday.
Low temperatures by Monday morning could dip into the mid-upper 40s across the area. Consult the latest KATC 10 Day Forecast for the latest.
After a couple of quiet days early next week, it appears that the next round of storms, and perhaps another severe weather threat will arrive late Wednesday into Wednesday night.
Latest Euro Model:
And with any luck, the latter part of next week including Good Friday through Easter should see the area in a fair weather pattern…but no promises on that end of the forecast quite yet.