Acadiana will enjoy a couple of more nice spring days, albeit with more clouds, but the pattern will turn toward more unsettled, and rather cool, midway through the weekend into Sunday.
In the near term, expect temperatures to be not as cool as the last several nights across the area, with lows by morning in the low to mid 50s.
If winds die down enough and clouds thin overnight, then patchy fog will certainly be possible by morning.
Latest Fog Conditions and Forecast:
Our Friday will be partly cloudy, breezy and seasonably warm with high temperatures in the afternoon reaching the upper 70s.
Breezy S/SE winds near 8-14 mph Friday afternoon will keep it from feeling too warm.
Rain chances Friday, while not zero, should be no higher than 10% for a small, quick-passing light shower late in the afternoon, if we see anything at all.
Saturday should be a bit warmer with highs reaching the lower 80s under partly to at times mostly cloudy skies.
Rain chances Saturday will remain low during the day (20% or less), but should increase to near 60% around midnight (give or take a few hours (and a few percentages)) as a cold front sweeps through the area.
Mostly shower activity is expected Saturday night, but there could be a few rumbles of thunder…however, severe weather is not anticipated.
Showers may last into the first part of Sunday (at 40-50%), while temperatures will be vastly different as compared with Saturday.
Readings should drop into the 50s by early Sunday morning and will likely stay there all day long under lingering cloudiness into the afternoon.
And with breezy north winds Sunday, it will feel more like January rather than late March or early April.
While a brief return of sunshine may occur early Monday morning, a quick moving upper disturbance is expected to generate showers by late Monday afternoon into the evening as surface low pressure develops in the Central Gulf of Mexico and then moves off to the northeast.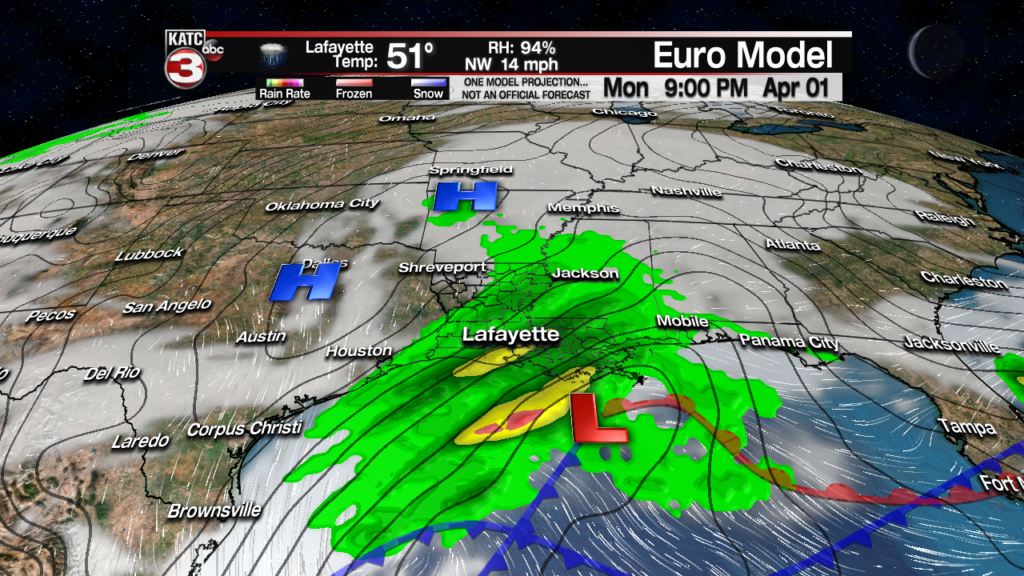 Rainfall this weekend will be quite light, near 1/4″ or less, but we could see a better chance of more substantial rains with an additional 1/2″ or more possible late Monday.
After the aforementioned disturbance, Tuesday and Wednesday look quite nice and seasonably cool, with warmer temperatures and a few more clouds anticipated for Thursday.
While long range models don't agree on the details, it appears that more unsettled weather with fairly decent rain chances could develop next Friday and continue perhaps into the first part of the weekend that follows.
See the KATC 10 Day Forecast for the latest.