After a rather cloudy and gray first 10 weeks of 2019 for Acadiana, several days of sunshine is in store for Acadiana through Friday.
While it's not surprising that Acadiana has been mired in a cloudy pattern over the last few months thanks to an El Niño-enhanced, sub-tropical jet stream that has been nearly overhead, it is surprising that Lafayette has received less than 50% of normal rainfall to date for 2019.
Meanwhile, an upper disturbance in the same sub-tropical jet stream that has been producing high clouds locally and showers again in the Gulf of Mexico Monday, will advance eastward overnight into Tuesday morning allowing for clouds to thin through daybreak.
Tuesday morning temperatures will range mostly in the mid-40s…roughly 8 degrees below normal.
Look for mostly sunny and seasonably cool temperatures Tuesday, but with more sunshine, temperatures in the mid-upper 60s, the afternoon will feel a lot warmer in the mid-March sun.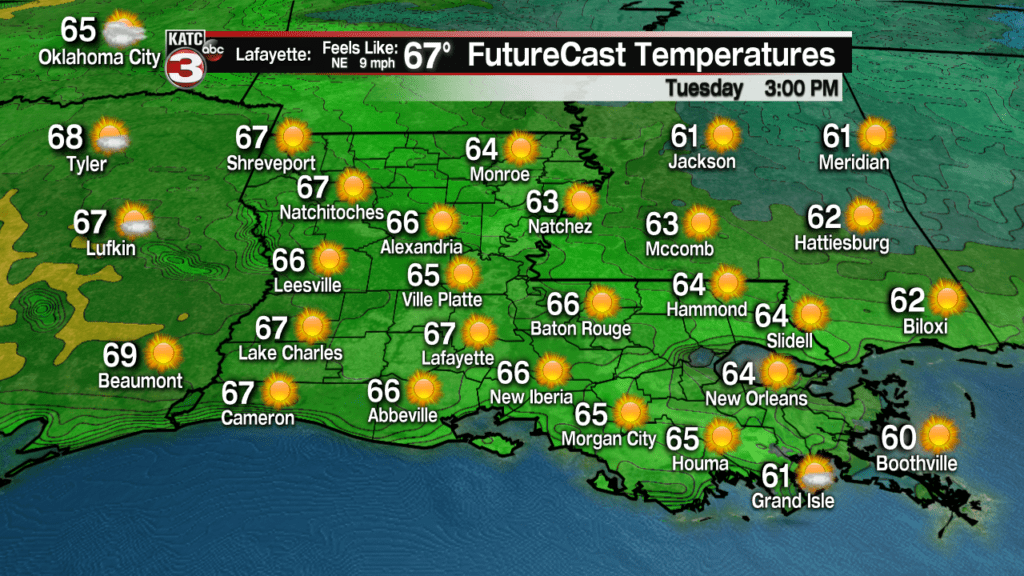 Normal highs this time of year are around 73.
Mostly sunny skies are expected Wednesday with a fizzling front insuring more dry weather and sunshine Thursday into Friday.
Daytime highs will be near 70 Wednesday and should edge into the lower 70s Thursday into Friday.
Clouds should return Saturday ahead of our next weather-maker that could induce a few showers Sunday.
It appears that the best rain chances in the 10 Day Forecast should be Monday, leaning heavily on the European Model.
At this point, Monday's weather should not come with much of a severe weather or any flood threat.
Thereafter, it looks like more nice spring-like weather will follow the system for mid-next week.
Latest European Model:
Seasonal Note: On the calendar, spring (also know as the Vernal Equinox) will arrive Wednesday at 4:58 pm CDT…and mother nature looks to completely cooperate for the changing season here in Acadiana!
Enjoy!