A strong storm system moving through the Plains States Saturday will induce windy and mild conditions across Acadiana which will be feeding strong to severe storms well to our north into the afternoon.
But locally our rain chances will be significantly lower with Acadiana no longer under any organized severe weather threat,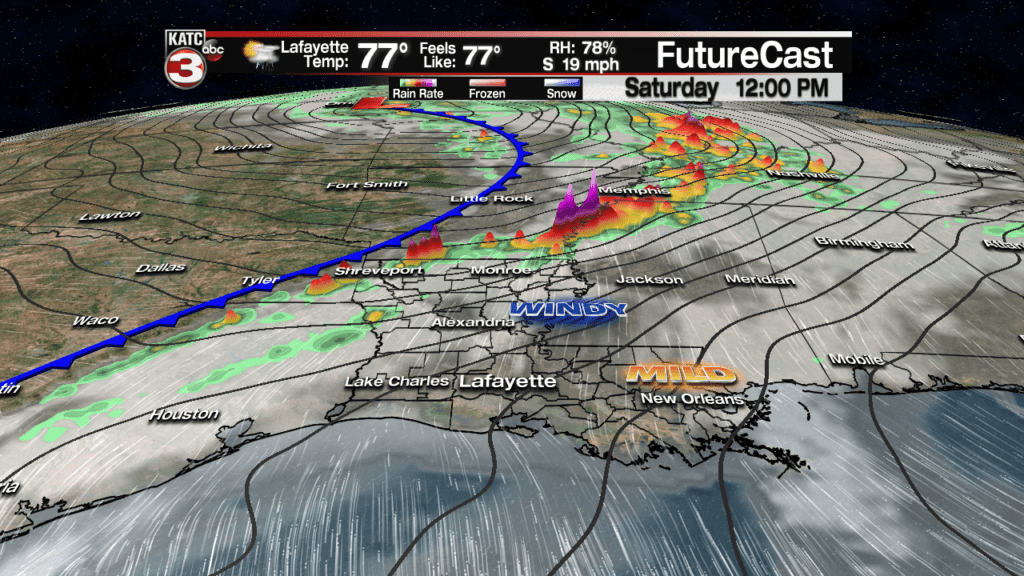 The storm system to our north will likely produce a severe weather outbreak across portions of NE Texas, into Arkansas, portions of Southeast Missouri, Western Tennessee, extreme Southern Illinois, and into Northern Louisiana and Mississippi.
While an "Enhanced Risk" of a severe weather outbreak in the form of damaging winds and tornadoes will exists in the aforementioned areas through Saturday evening, Acadiana should not see any severe storms with all the dynamics well north of our area.
There will however be a "Marginal to Slight Risk" for the central into the northern part of Louisiana Saturday into Saturday evening.
Locally expect mostly cloudy, and windy conditions for our Saturday with gusty southerly winds at 15-25 mph with a few gusts reaching 30 mph.
Latest FutureCast Winds:
A few passing showers will be possible through our Saturday afternoon, but rain chances will stay near 20%.
Temperatures Saturday should reach the mid to upper 70s, but if we see a few extended intervals of sun, a few readings could reach 80 degrees, especially toward CenLa, Baton Rouge and New Orleans.
A frontal boundary will advance into the Acadiana area by Saturday night allowing for a 50-60% chance of scattered showers along with a few thunderstorms possible…but again, no organized severe cells are anticipated.
The front will become quasi-stationary and will be draped across the area Sunday allowing for roughly a 40% chance of scattered showers, and perhaps a few thunderstorms.
Temperatures could be a little tricky Sunday with the front in our general vicinity allowing for highs to range from near 70 to the north, to mid-upper 70s southward.
The weather pattern much of next week offers little in the way of clarity with the chance of scattered showers and a few storms possible Monday, and perhaps drier, but still cloudy and warm conditions Tuesday.
The prospects of showers and storms should increase again by late Wednesday into the latter part of Thursday, and depending model, rainfall totals could be an inch or two (Euro)…or several inches (GFS)…we'll have to wait on that a few days longer to get a beat on the rain totals.
There could be a severe weather element to the storms mid-week, but it appears that the strongest dynamics may stay to our north…this period though will have to be watched, especially for the threat of heavy rains.
And over the next week, rainfall totals from the Red River to the Mid-Mississippi Valley will take on soaking rains….all which will likely continue to contribute to keeping the Mississippi and Atchafalaya rivers high through the end of the month.
Find the latest local river stages here
A fairly strong cool front should arrive by Friday which will hopefully not only knock the rain chances down, but yield some cool sunshine for next weekend…fingers crossed!
0