Dreary skies accompanied by increasing rain chances will dominate across Acadiana with highest rain chances developing Tuesday night and continuing through Thursday…but wait, there will be more into this weekend.
Big Picture: An active "El Niño-flavored" jet stream pattern will tap into atmospheric river of moisture from the Pacific to bring repeated rains over portions of the Gulf Coast into the South-Central U.S. over the next week to 10 days.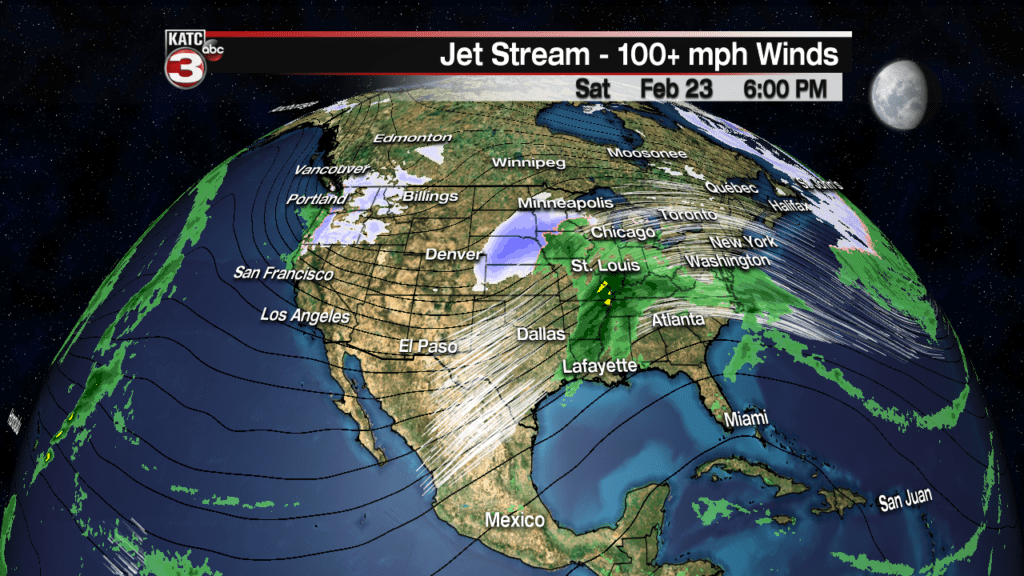 Euro model suggesting areas of 7-10″ possible (areas of yellow) thru time period with 3 snow storms from the Rockies to Midwest on the Northwestern flank of the storm action.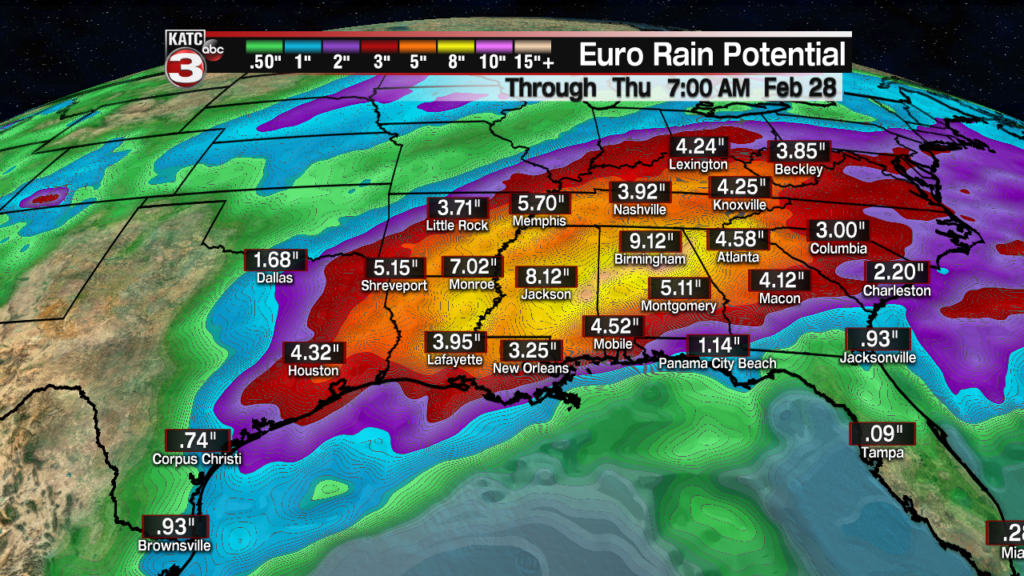 Local Weather: In the near term, expect periods of light rain and/or drizzle/mist overnight into Tuesday moving northward from the Gulf of Mexico ahead of a warm front that will push through the area by late afternoon.
Rain chances Tuesday, during the day, will likely be in the 30-40% range, but increase to 80% or better, late Tuesday night into Wednesday.
An area of surface low pressure will develop across Southeast Texas and the Upper Texas Coast Tuesday evening with an accompanying cool front expected to slide eastward through Louisiana Wednesday.
The front will likely stall Wednesday afternoon and then drift back to the west insuring high rain chances again Thursday.
This pattern will yield a good chance of thunderstorms late Tuesday night into Wednesday…and some storms could be marginally severe.
The Storm Prediction Center (SPC) has all of Acadiana hatched in for a marginal (5%) risk of a few severe storms, and for Acadiana, and that would be primarily for late Tuesday night/pre-dawn Wednesday.
The risk of any severe storms should advance east of Acadiana into Wednesday…but may be readjusted if the aforementioned frontal boundary slows to a crawl, as models have been suggesting late this Monday afternoon.
Temperatures and dew points will warm to near 70 overnight Tuesday into early Wednesday which in addition to the wind profiles aloft, may lead to a couple of super cell storms that could produce hail and/or damaging winds.
Another disturbance riding in an increasingly active sub-tropical jet stream will provide more fuel for showers and storms Thursday as Wednesday's cool front backs up into a nearly stationary boundary helping to focus the rains over the region.
Latest Long Range Models:
A brief push of more stable, but quite warm air will advance into the area Friday, but another storm system will likely bring another good chance of showers and perhaps some strong thunderstorms late Saturday or Saturday night with a dry day expected to follow Sunday.
We may actually see our first 80 degree temperature readings either Friday or Saturday before the next frontal system arrives late Saturday night! Check the 10 Day Forecast for the latest.
Unfortunately the upper pattern may support high rain chances again early next week.
Per the RPM Model, rainfall totals will likely be in the 1-3″ range between Tuesday night and midday Thursday.
The Euro Model is less bullish on the rainfall through mid-week, but may indeed be underestimating the El Niño enhanced upper pattern that will develop and likely stay with us over the next 8-12 days.
Nonetheless, the Euro really paints a rather wet period for the Gulf Coast and South Central U.S. over the next 10 days, with the risk of flooding possible from daily repetitive rains primarily from Northeastern/Central and Eastern Louisiana into Mississippi, Alabama, Tennessee and surrounding areas well into next week.
A soggy pattern ahead indeed…