With a return of southerly winds, Acadiana can expect milder conditions to continue into the weekend with plenty of cloud cover, as has been so common this February.
And with warmer air arriving from the Central Gulf traveling over cooler shelf waters near the coast, sea fog may become an issue over the next few nights.
Fog will likely impact the coastal areas, but with some cloud cover overhead, it will debatable on how far inland the fog will travel through morning.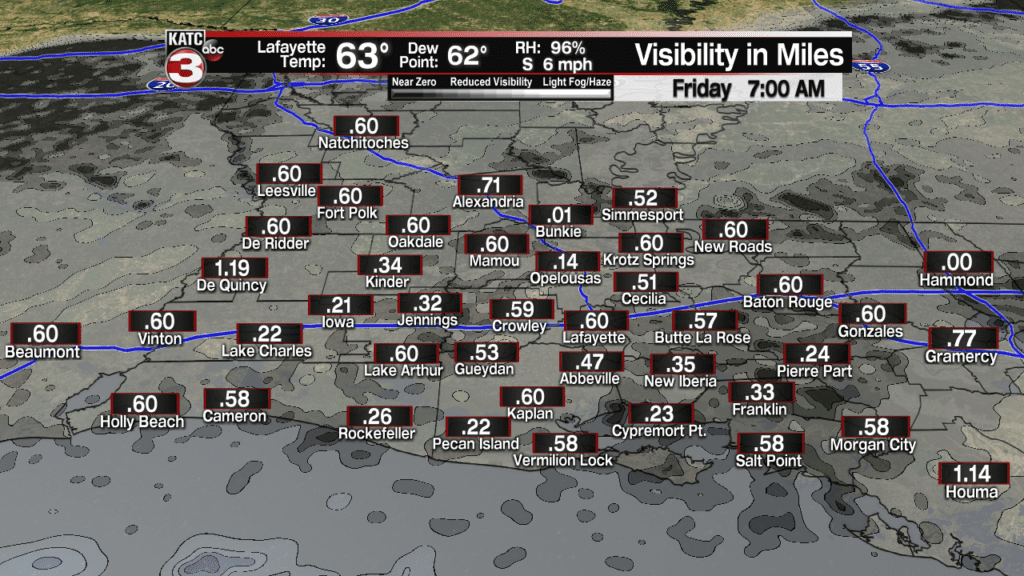 Latest FutureCast Fog Products:
Nonetheless, after some morning fog, look for mostly cloudy, breezy and mild conditions for our Friday with gusty S/SW winds near 15-20 mph primarily during the afternoon.
Rain chances will stay slight, with just a 10% chance of a passing light sprinkle or shower.
The weather pattern will start to get a little more unpredictable Saturday as a frontal boundary approaches the area with it stalling and becoming nearly stationary between Lafayette and Alexandria…which makes for a difficult temperature forecast.
For now, we are playing it that the front's impact doesn't reach the I-10 corridor, keeping most of our temperatures in the mid-70s…but just north of the front, readings may drop into the lower 60s.
And with a frontal system in the area, there should be a 20% chance of an isolated shower or two.
The same front advances northward Sunday, insuring our temperatures stay in the mid 70s.
There may be some scattered showers and storms Sunday, but they will probably focused near or along the retreating frontal boundary in the northern portions of Acadiana.
Moving into next week the pattern becomes much more unsettled with building rain chances likely as the sub-tropical jet stream becomes active and oriented in a position that could lead to a good chance of scattered showers and storms through the mid-week period.
The same nearly stationary frontal boundary will "waffle" across the area next week allowing for mild and wet conditions developing through Tuesday, with cooler and likely wet conditions continuing Wednesday into Thursday, before the same frontal system moves back northward late next week into the following weekend.
While the devil will be in the details, at this time we are not expected overly heavy rains, but there could be a marginal risk of severe storms Tuesday and then perhaps again Thursday, and then again sometime into the following weekend, but this remains rather speculative at this time.
But with an active sub-tropical jet, the beginnings of our spring severe weather season could be just around the corner.
Heaviest rainfall, per the Euro Model over the next 10 days looks to manifest northeast of the Louisiana area, the forecast numbers can, and may change during that time frame, so stay tuned…
For now, rainfall totals over the 10 day period will likely be in the 2-3″ range for most in Acadiana.
Latest Euro and GFS Model Guidance: