After nearly a week's worth of spring-like days, Acadiana will get a dose of seasonal reality Friday with temperatures some 35-40 degrees colder than Thursday.
Look for another breezy and mild night for the area through Friday morning with fog banking up upon the coastal Acadiana parishes, especially as winds diminish late.
Light fog is expected further inland thanks to the southerly breeze, but could thicken and spread inland as winds decrease closer to daybreak.
Latest local visibility and fog forecast:
Temperatures overnight will stay mostly in the upper 60s…some 4-5 degrees above our normal highs for this time of year!
Look for another mostly cloudy, breezy and warm, spring-like Thursday with a few breaks in the clouds allowing temperatures to push the upper 70s…which could make it the warmest day of the year to date.
A strong cold front will approach the area late Thursday afternoon into early Thursday evening generating a brief round of scattered showers.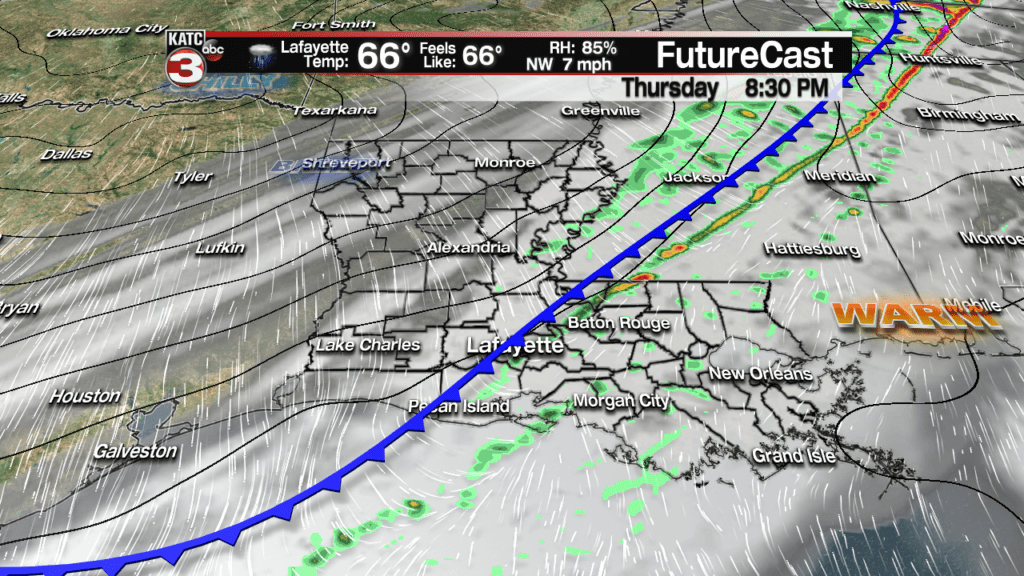 Following the front strong northerly winds and sharply colder temperatures will advance into the area through Friday morning.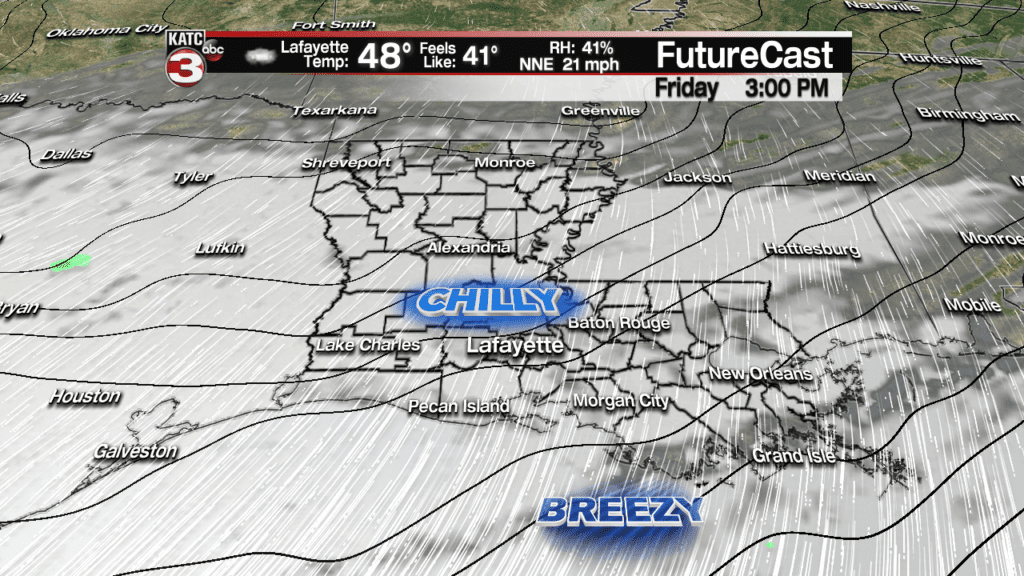 Clouds will linger while temperatures dropping and stay mostly in the 40s all day Friday. Add the gusty northerly winds, and wind chills Friday morning will be in the mid-upper 30s…so be prepared to bundle up.
It will stay cloudy and cold into Friday night/Saturday morning as overnight lows drop into the upper 30s to lower 40s.
Skies will stay mostly cloudy Saturday, but there might be a few breaks in the cloud cover and with less wind high temperatures in the mid-50s will seem much more palatable.
The chill will depart Sunday as a warm front moves northward through the area, which may generate a few showers, but by the afternoon, we may see a few intervals of sun accompanied by temperatures returning into the lower 70s.
Look for a couple of spring-like days again early next week (perhaps with a few showers) before the next front arrives late Tuesday, after which, we'll do the cool dance for a day or two before the next warm-up follows quickly…thus the way it goes in February in Acadiana…changeable weather indeed!
See the latest KATC 10 Day Forecast for the latest!