Acadiana stayed on a nice seasonable winter roll Thursday as temperatures reached the upper 50s to 60 degrees in a few spots under mostly sunny skies.
More of the same is expected to tomorrow, but there will probably be more high clouds mixing with the sun from time to time.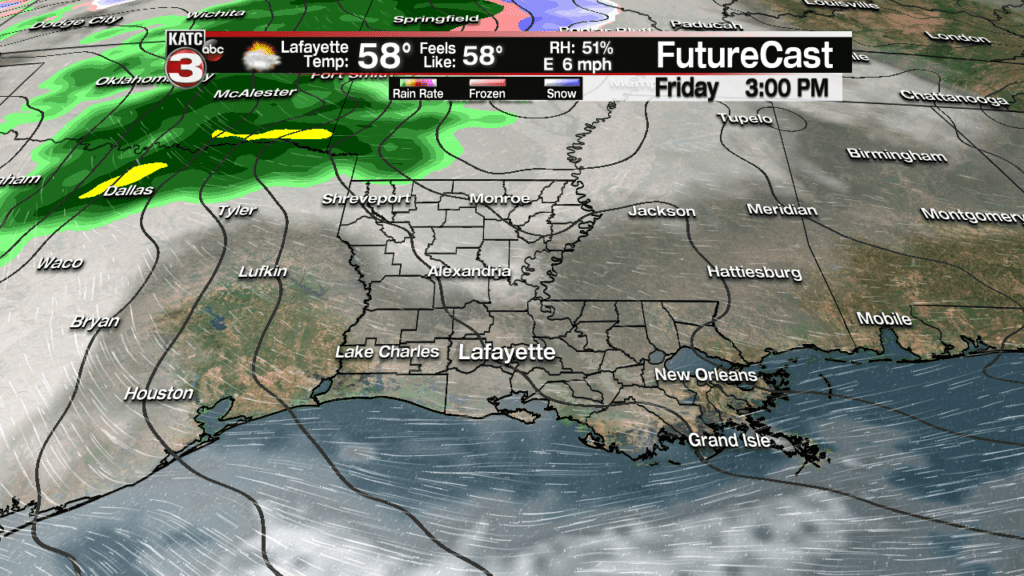 In the near term, expect another fresh and chilly night across the area through Friday morning with lows generally ranging in the mid-upper 30s.
And like the previous night, if winds diminish to a nearly calm situation, there could be some patchy frost, especially in non-urban, rural areas by morning.
Temperatures will rebound back into the seasonable low to mid 60s for our Friday afternoon…dependant on the extensiveness of high cloud cover.
Look for milder conditions Friday night as southeasterly winds usher in clouds and hold temperatures in the low to mid 50s .
The much advertised weak area of low pressure and trailing cool front will move west to east across Louisiana Saturday.
The model trend continued today for just scattered showers, maybe a rumble of thunder along with rain totals for most, 1/4″ or less.
Best timing for the shower activity Saturday continues to be from the morning through mid-afternoon, with drier conditions, and eventually breezy and cooler temperatures returning Saturday night into Sunday morning.
Highs Saturday will likely top out in the lower 70s, but don't get used to it, as Sunday will likely be breezy and some 15-20 degrees cooler with highs struggling to reach the lower to mid-50s under a cloud and sun mix.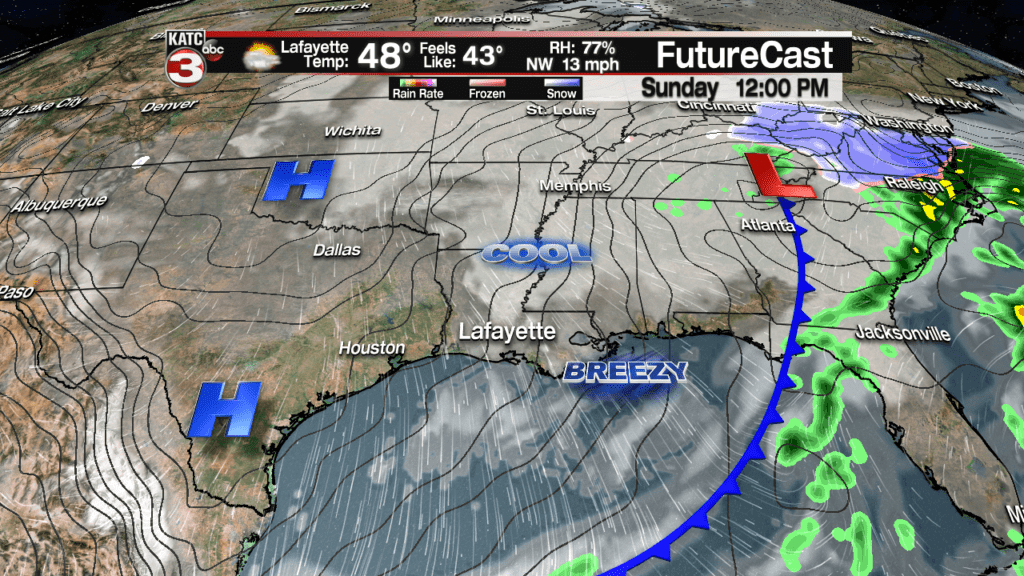 The weather pattern looks seasonably cool with fair skies (accompanied by the seemingly ubiquitous winter high clouds mixed in) along with temperatures ranging in the mid-50s for afternoon highs accompanied by lows in the mid-upper 30s.
Latest FutureCast:
The long range models begin to disagree Wednesday and beyond with the Euro flip-flopping away for a wet pattern to one that is drier and more seasonably mild…and that's reflected in today's 10 Day Forecast.
But forcecast confidence now beyond Wednesday is low as the GFS model is keeping it cloudy and wet…we'll see tomorrow if the Euro is the trailblazer or the outlier Firday.
Long-Range Model Guidance: