Cooler, more seasonable temperatures have returned to Acadiana following Tuesday evening's cool front with a little bit of a winter chill in the forecast over the next couple of days and nights.
Temperatures will likely drop into the mid-upper 30s across the area by Thursday morning, and with light to nearly calm winds, there might be (not very likely) some patches of frost by daybreak…especially in the northern-most Acadiana parishes.
Mostly sunny skies mixed in with occasional patches of high clouds and seasonably cool temperatures are anticipated for our Thursday.
Highs will top out mostly in the mid-50s Thursday, roughly 5 degrees cooler than our Wednesday, but there will be less wind…so it should feel nearly the same.
Fair to partly cloudy skies and slightly milder temperatures in the lower 60s are anticipated Friday ahead of Acadiana's next weather-maker, that arrives Saturday.
A weak area of low pressure, and eventually a cool front, will sweep across the Bayou State Saturday allowing for periods of rain and/or scattered showers.
There may be a rumble of thunder or two with the shower activity Saturday, but overall rain totals will be generally 1/2″ or less. Chance of rain Saturday remains near 70%.
So Saturday's periods of rain will be more or a nuisance rather than a soaking, and there won't be any kind of severe weather threat.
It appears that the best chances of rain Saturday will be primarily from the morning into the early/mid-afternoon.
Activity should end across the area by Saturday evening.
Temperatures will rise into the upper 60s to near 70 ahead of the frontal system Saturday, but breezy and cooler conditions will return to the area late Saturday night into Sunday.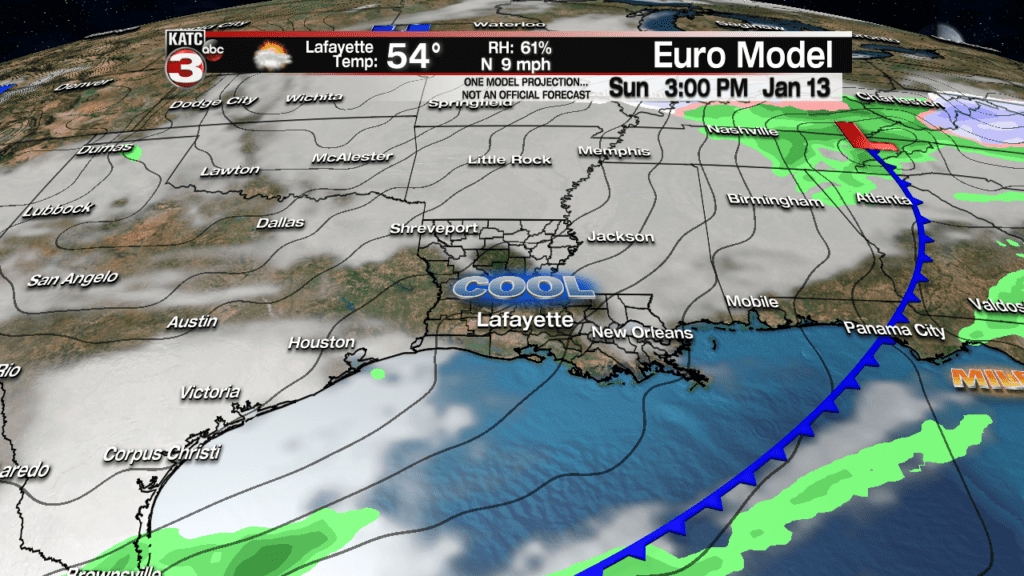 And seasonably chilly temperatures will stay in the area through mid-next week.
Look for mostly cloudy skies Sunday to gradually give way to a few intervals of sun, and expect full sunshine for Monday.
There will be plenty of high clouds (typical of winter for Acadiana) and chilly temperatures through the mid-week period with rain chances ramping upward (along with temperatures), and clouds locking in for next Friday into Saturday.
See the latest KATC 10 Day Forecast for the latest.